Abstract:
Cars are dirty machines.
The car, in my opinion, is one of humanity's most brilliant inventions, but alas, they come with headaches. Like all of our machines, cars break down. They cost us money, which naturally points us toward the direction of which company makes the cars requiring the least amount of work, but that doesn't always pan out. People with more exotic tastes buy extraordinarily unreliable cars like used Range Rovers or old Volkswagen/Audis. Every time I see this, I shed a tear for their wallet as well as their soul, but for the rest of the buying public, we tend to stick to cars with established pedigrees.
Think about your mother's Honda Odyssey, or your dad's Toyota Camry. Every once in a while, you'll see a Nissan Sentra—you know, the boring and lifeless appliance cars.
They run like a well-maintained box fan from Sears, or a freshly unraveled Hoover vacuum cleaner primed to rid the carpet of lint and pet dander. For as much as we ask of our automobiles on a day to day basis (roughly 29.2 miles daily, or 10,658 miles yearly per the AAA), it would make perfect sense to just mosey along and provide them with merely the "recommended maintenance" that every manufacturer clearly spells out. Simple and easy, though the concept becomes warped in the illogical minds of enthusiasts.
We're weird with this. We buy more "interesting" cars that aren't as notorious for long-term reliability, but on top of that, we tend to take a perfectly good car and make it more unreliable by installing parts that it wasn't designed for.
I'll call this the "Money Pit Cycle," which typically follows a 4-stage process:
[1] Enthusiast has a car, usually one with a higher price and substantially reduced practically versus the average car—mostly because said enthusiast won't settle for "average".
[2] Enthusiast loves the car for perhaps a few weeks, then the excitement wanes. Slowly, the enthusiast starts to find imperfections and a total lack of personal identification with said car. It becomes "boring" and average. Suddenly, the 420hp V8 isn't powerful enough. The clutch sticks to the floor and shifting is labored. The enthusiast is triggered by these revelations.
It's the end of the world, and potentially the end of the love affair, but alas, there is hope.
[3] Enthusiast does research to tackle a list of improvement goals for the car. Eventually, this list grows to consume thousands of dollars. The plan is to take apart a perfectly good automobile no logical reason. Together, the enthusiast teams up with friends and they tackle hours worth of arduous labor replacing parts that otherwise functioned exactly as intended but not as well as they could have.
[4] Enthusiast is initially satisfied by the results, but soon starts to realize that more parts are necessary to achieve the desired goal. The new long tube headers have a nasty exhaust leak at the mounting flanges. The Centerforce Dual Friction clutch hates traffic and has the modulation range of a paperclip. The car runs stronger, but not quite as strong as hoped.
The cycle restarts. . .
The Impractical Choice:
In the driveway awaits this 2013 Ford Mustang GT.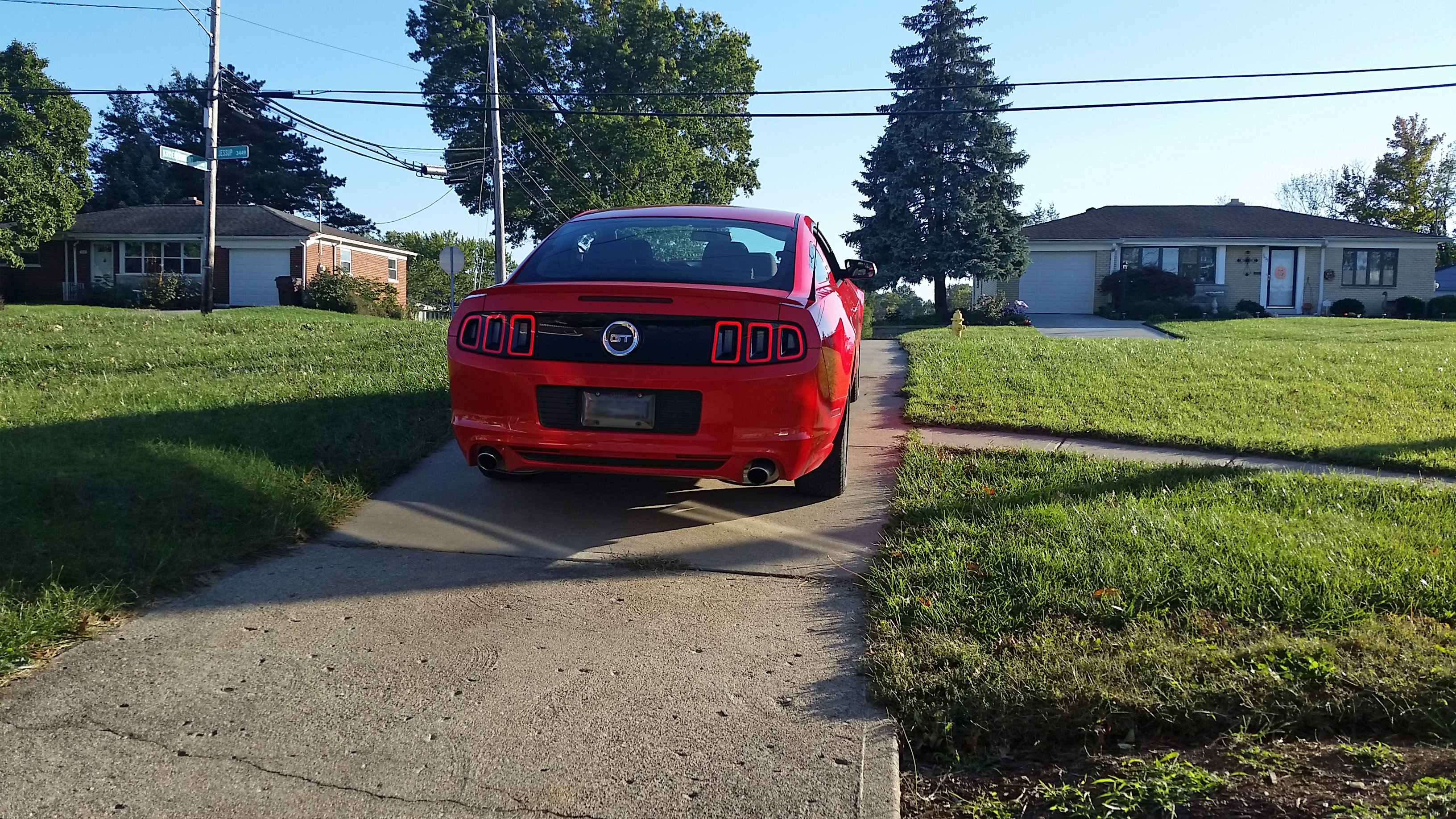 It's about as practical on a day to day basis as using a spoon to slice a wedding cake, but it's quite a bit faster now. Yes, as you can see here, my adorable baby girl strapped into a Graco carseat (with the base too!) will actually fit, and you can still fit an adult in the passenger seat up front.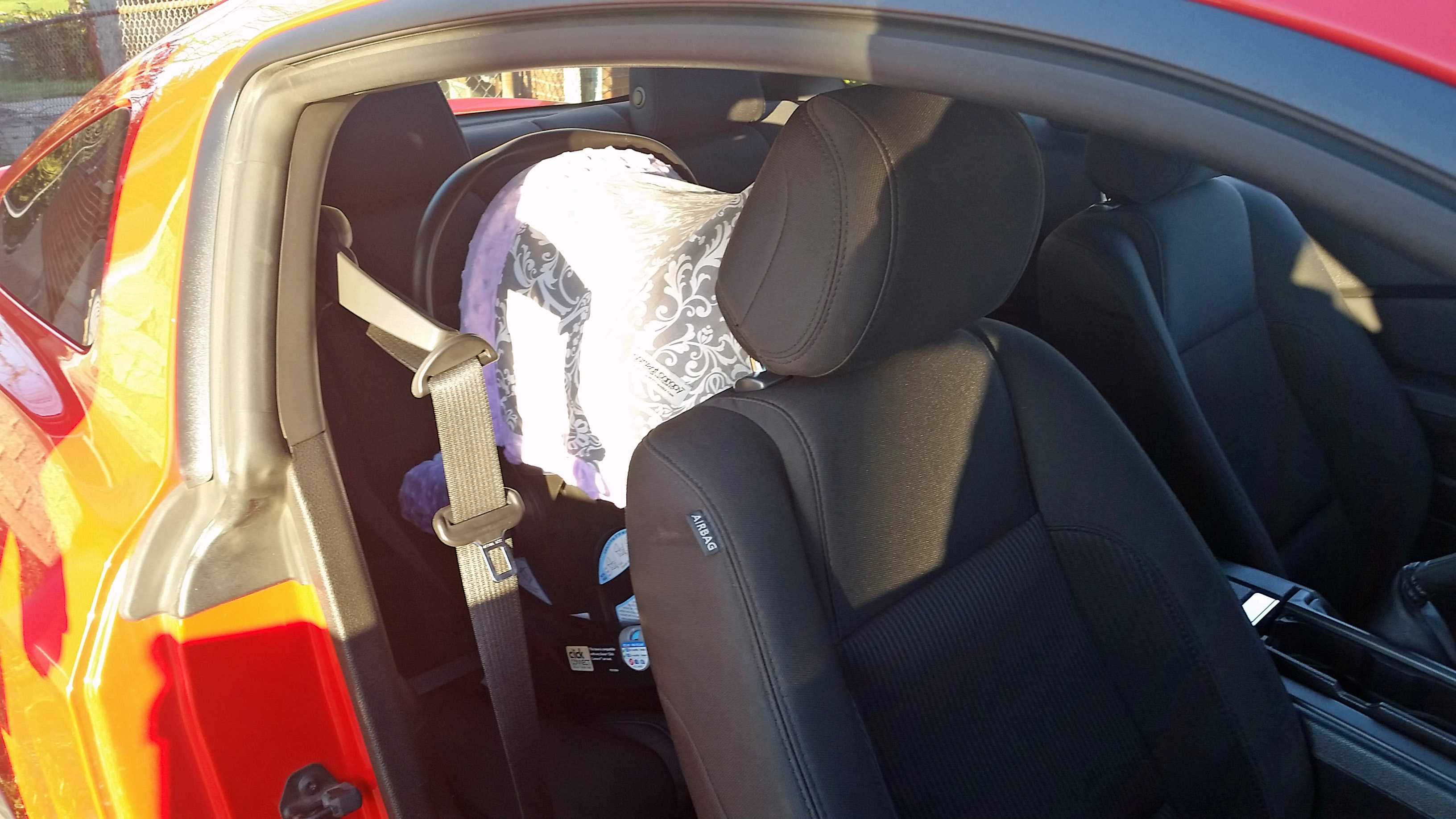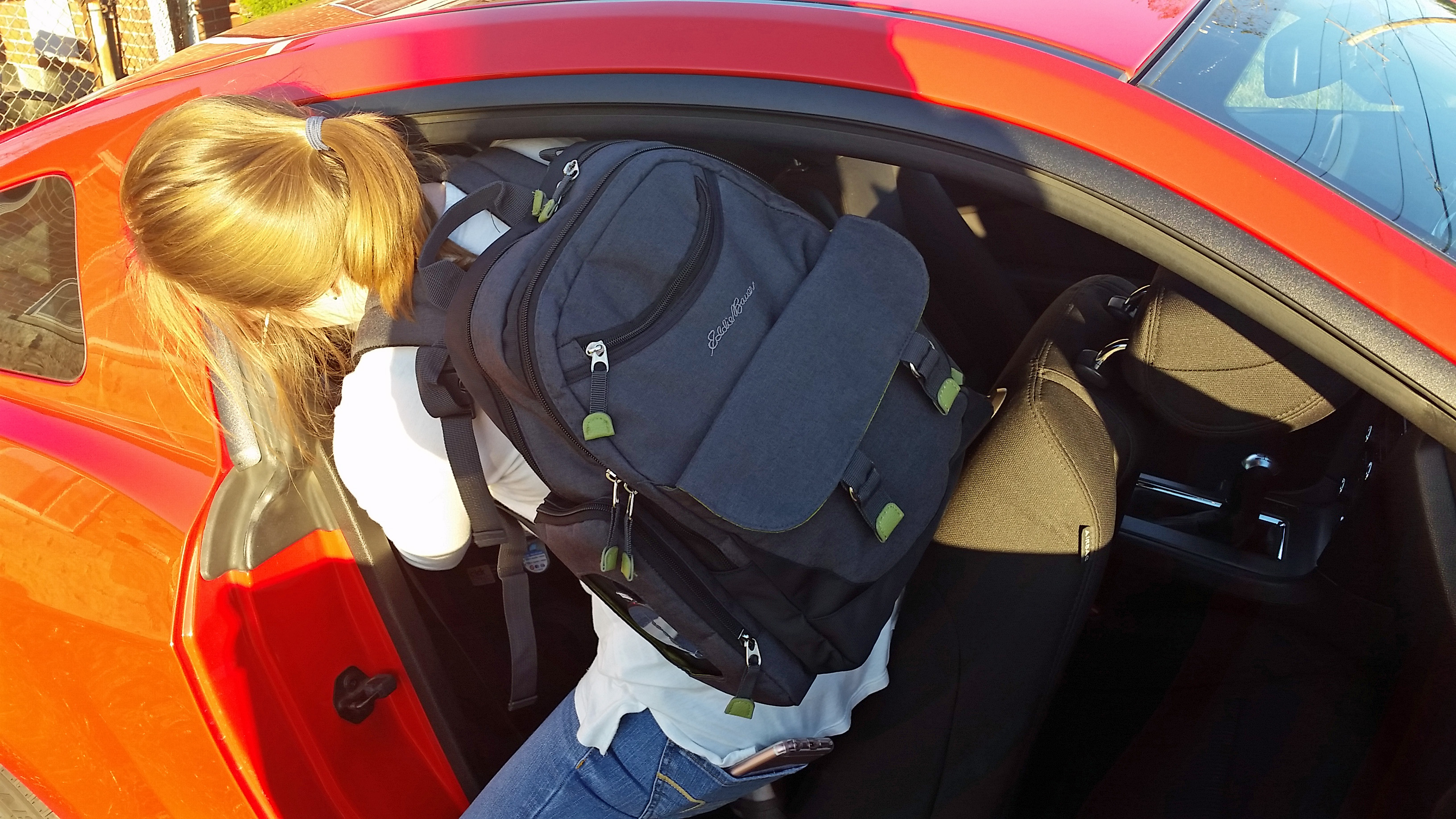 On occasion, the Coyote can muster out 23mpg, but you can't go over 80mph and expect that. Meanwhile, it unfortunately exceeded 50,000 miles on the odometer. I did buy it to drive it, I suppose.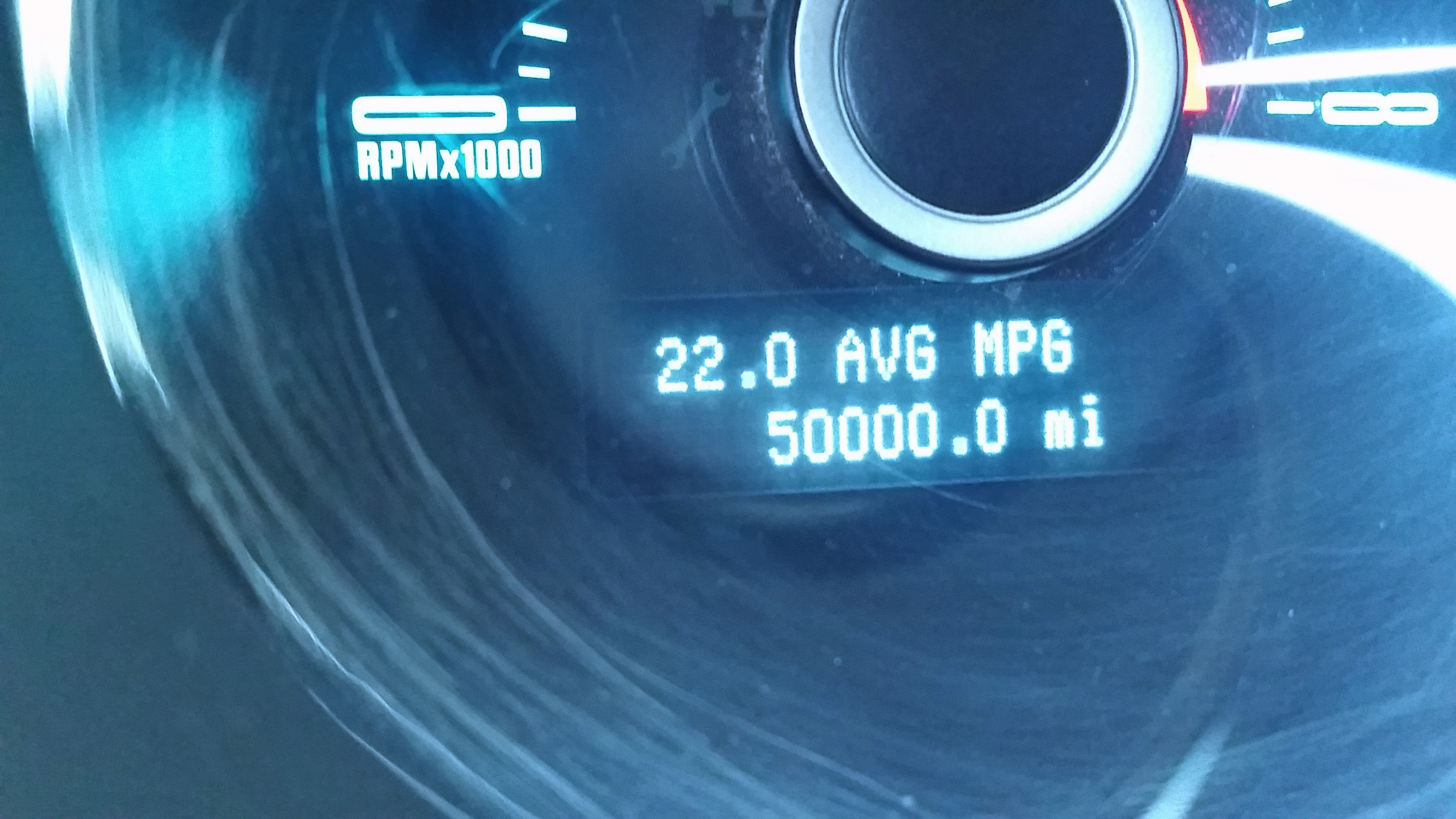 As detailed in the Project Ruby: Update 1 article, the fiasco that encompassed the two months of ownership was merely the start of what is working out to be a lovely journey. So far, I've set a few personal milestones with this thing. I described my quest for a 12 second quarter mile pass in detail in the Update 1, but the high temperatures and the finicky clutch seriously ailed my mid-summer attempts at glory.
It wasn't until September 30th that the car finally broke the 13 second barrier with a best of 12.876@110.85mph. Looking at the data, it was about a stout as your typical stock 2011+ 5.0 Mustang. It was good, but not good enough. Triggered, I entered Stage 1 of the Money Pit Cycle.
The Absence of Logic:
I ordered the following parts:
[1] Centerforce Dual Friction clutch, which was equipped with counterweights to ensure that the car would actually shift at high RPM (thanks, Ford).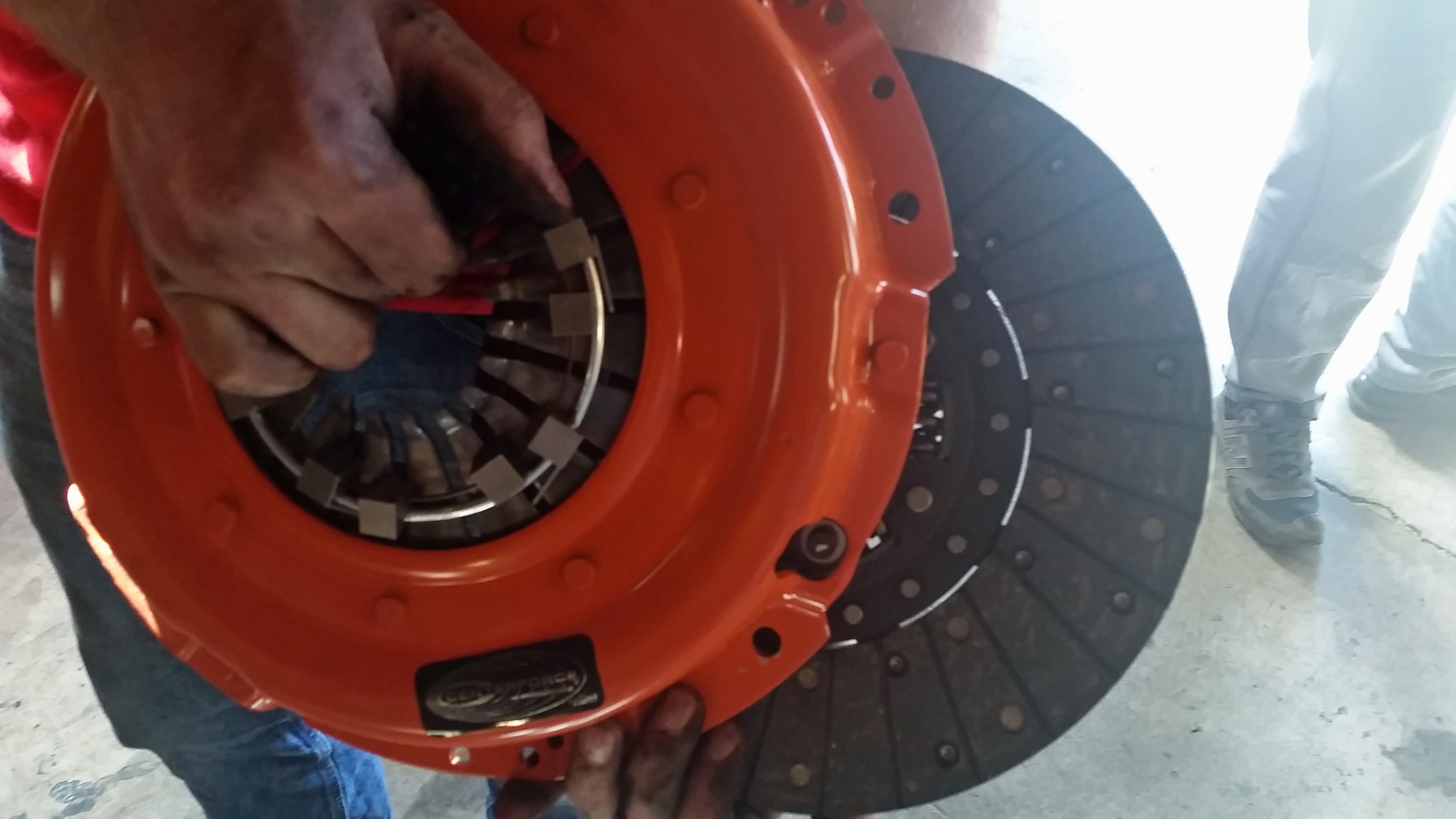 [2] Barton Racing shifter bracket, which was designed to essentially get rid of the junk remote-mount shift setup (thanks, Ford) and turn it into a "top loader" like it should've been from jump street.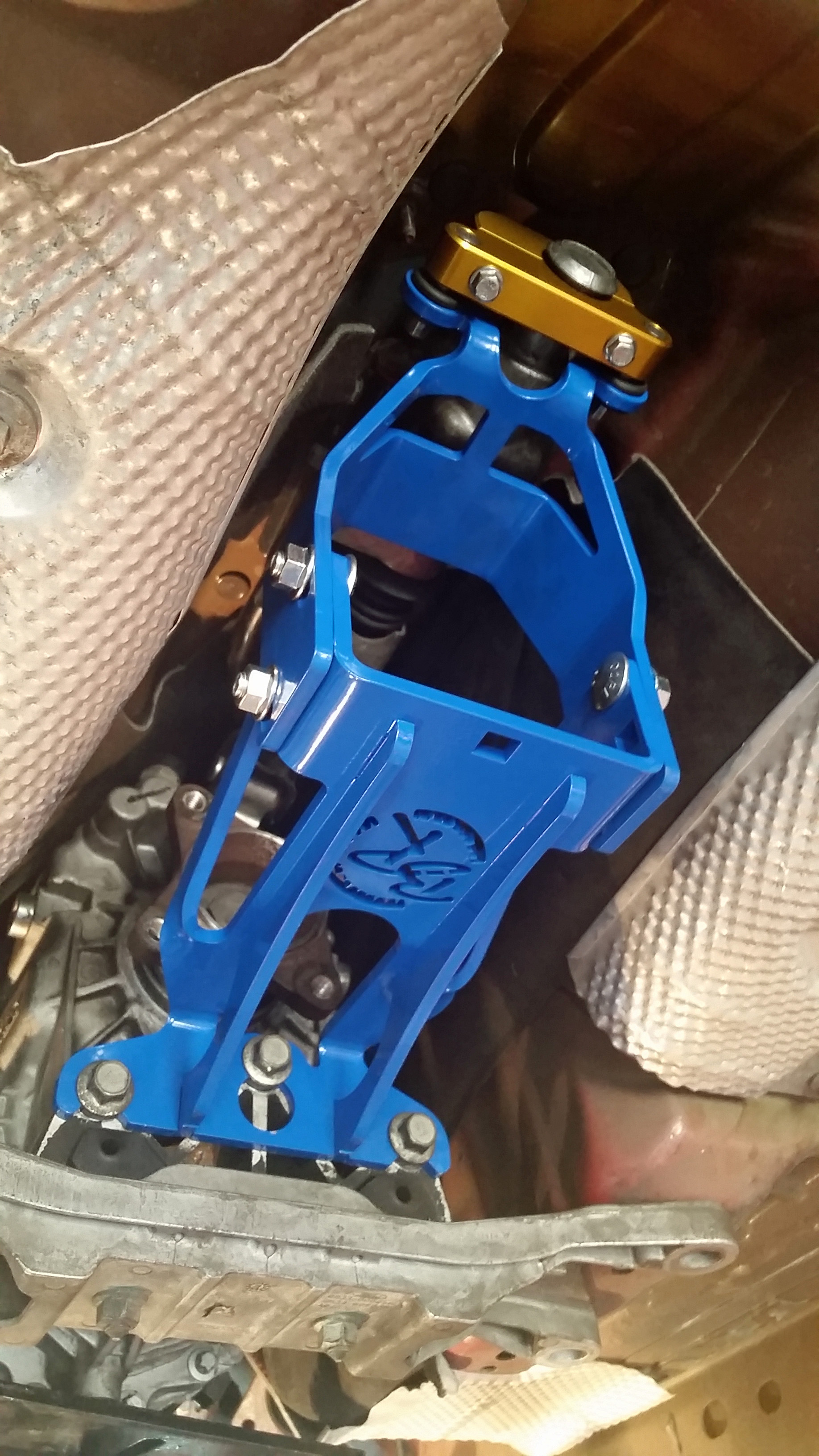 [3] BBK x-pipe, so I could connect the BBK long tube headers to the stock exhaust.
The installation? Well, it was a royal pain in the ass. Luckily for me, I had a team of friends and fellow enthusiasts to help.
Meet Sam, an extremely knowledgeable, honest, and straightforward guy. He loves cars, specifically Fords, and he was apparently born with a gene that turned him into a car addict like the rest of us. Working on cars is literally his job, though this experience usually makes even the most daunting tasks a cake walk. Yeah, he's that dude that can swap an engine in the time it takes for you to cut the grass.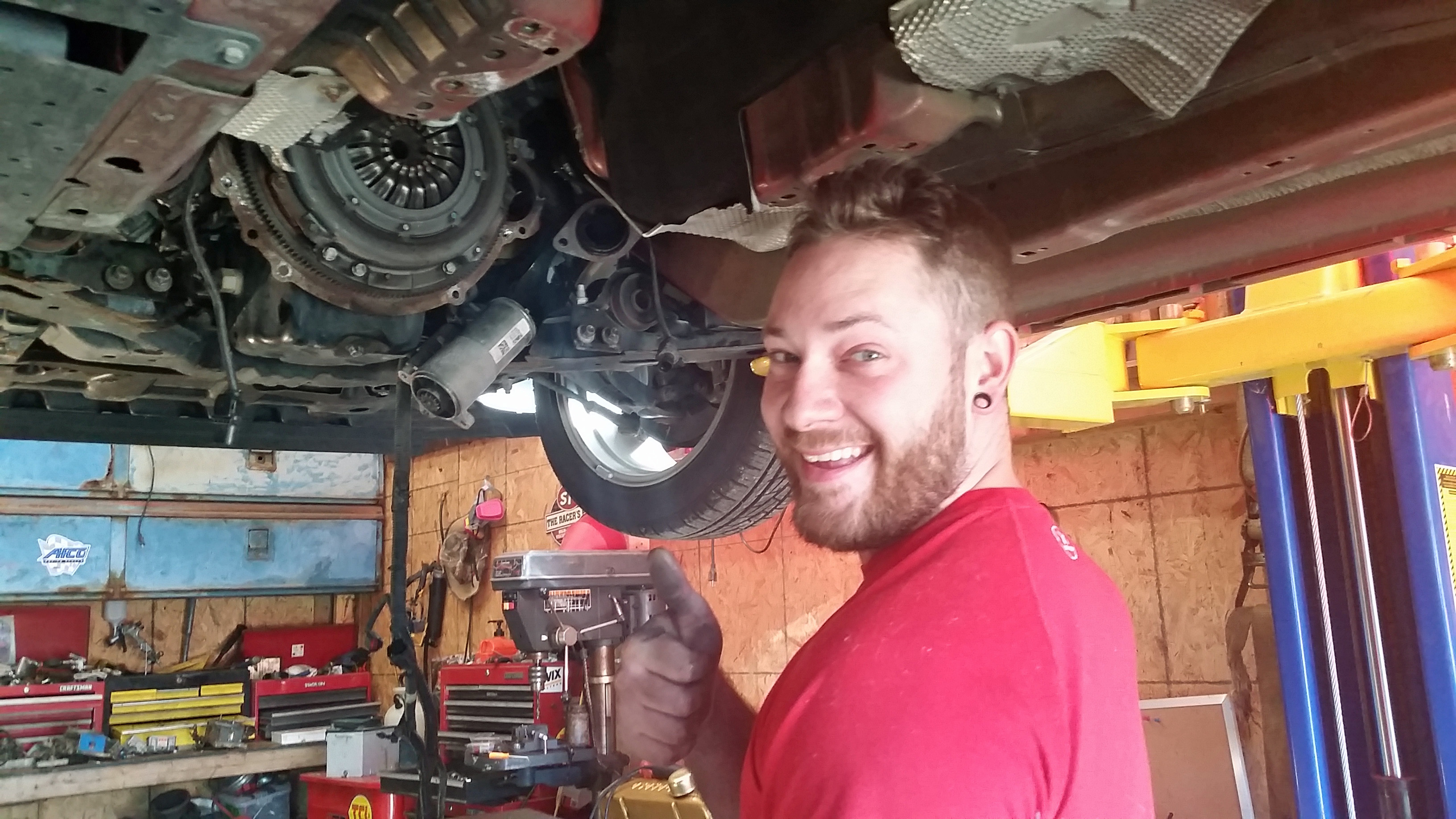 On October 9th,  Sam and his neighbor, Rocky, invited me over to use their facilities. It included an electric lift, which turned out to be a vital part of the major surgery considering that we'd have to take half of the damn car apart.

Once again, my Ford Mustang found itself suspended on an automobile lift. (Hutch is pictured here, too).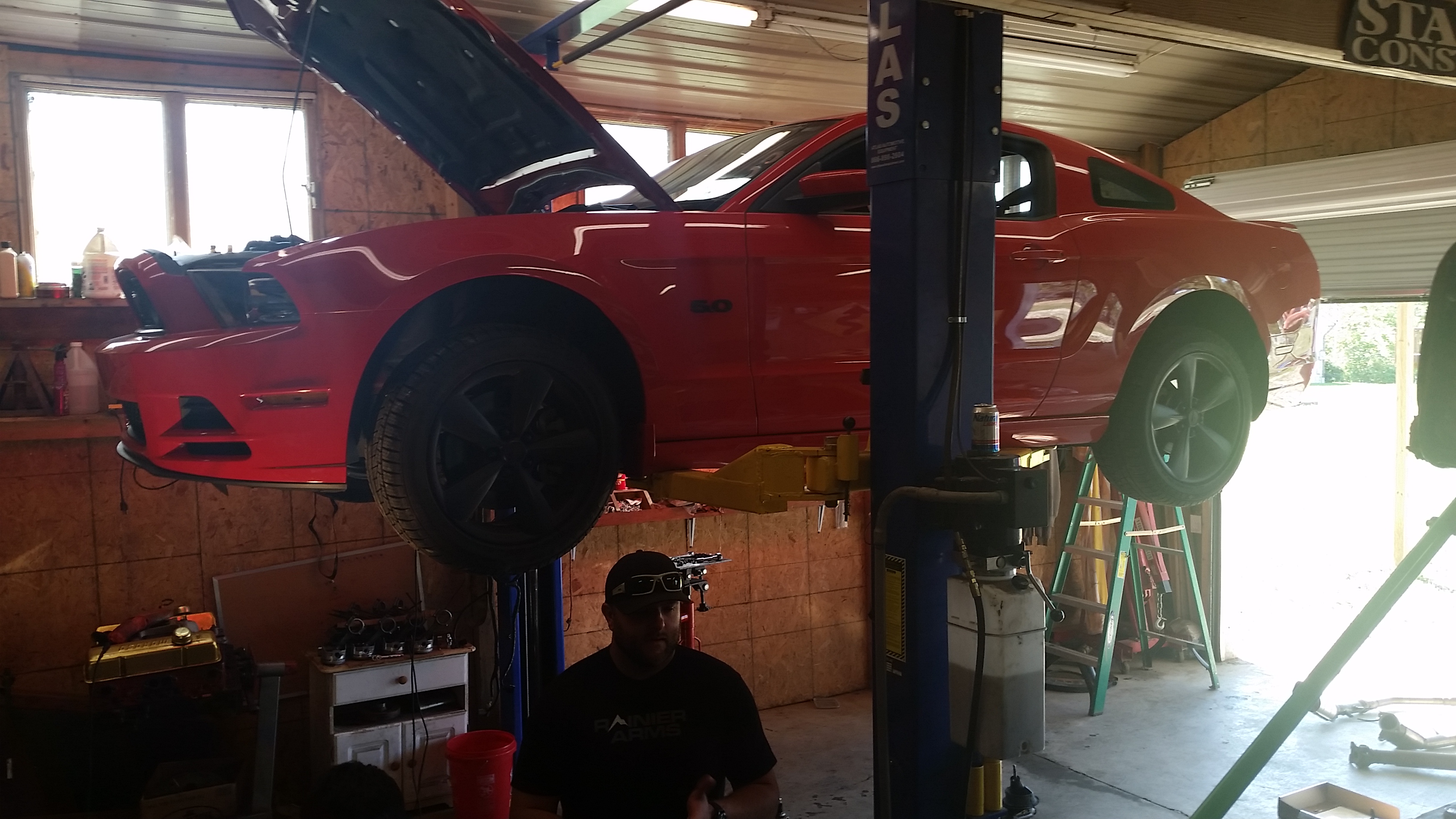 In short, these parts didn't exactly go on in an easy fashion. The clutch installation required the removal of the driveshaft, shift linkage, and the entire transmission. The Barton Racing shifter bracket was installed on the reassembly journey. The headers, bless our souls, were the worst part of the entire endeavor. Due to the space constraints under the car and under the hood, we were forced to remove the steering shaft, both engine mounts, and of course the old headers, all of which took about three hours to do (not including stops to McDonalds).
Oh, and we forgot the tools at the Ford Dealership where Sam works, so instead of calling off the surgery, another buddy, Hutch (in the foreground), brought a set of basic tools from the trunk of his car. Derek (in the background munching on Taco Hell), has direct experience in the nightmare that is installing anything worthwhile on a Coyote, as he has a 2012 Mustang GT 5.0 that has run a best of 10.878@127mph. Together, this team of three formed quite the comedic overlay.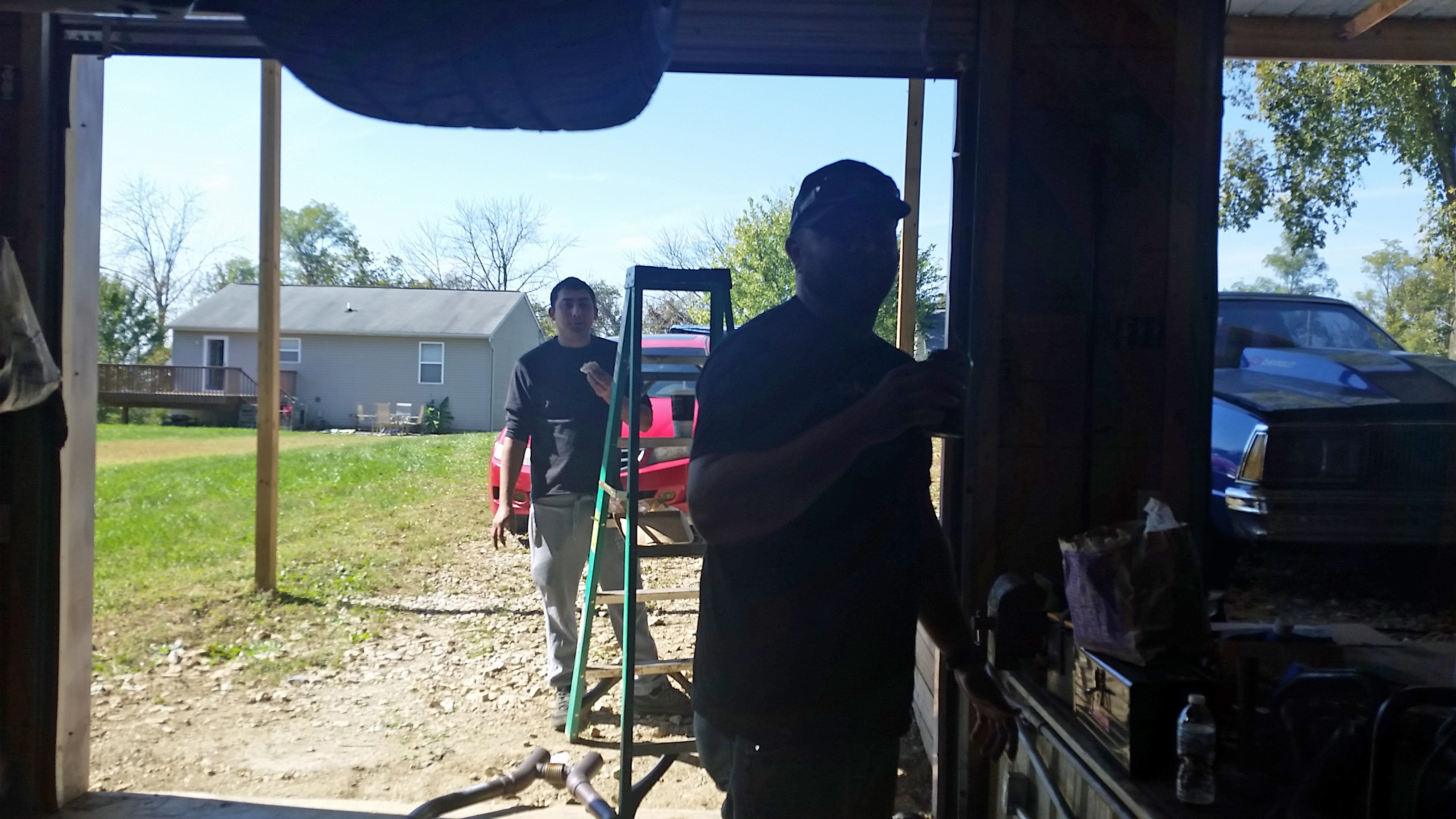 We joked with each other, cursed at each other, and bullshat through scrapped knuckles, bruised knees, stuck bolts, and nonsensical designs. Sometimes, no matter how immature it is to an observer, this behavior is necessary to stay the course.
Near the end, we reached a moment of desperation. We had forgotten to install the top two bell housing bolts, and in a notion of defeat, we surmised that it would require unbolting pretty much everything in order to tip the engine back and free up the room—that is, unless we found someone with a wrist small enough to fit.
I consider this to be my niche, and I stepped up and did what any desperate enthusiast would do:
Yes, I climbed atop the engine and hand-threaded the bolts, torquing them down with a wrench all the while hoping that making love to the engine would somehow smooth over the awkwardness.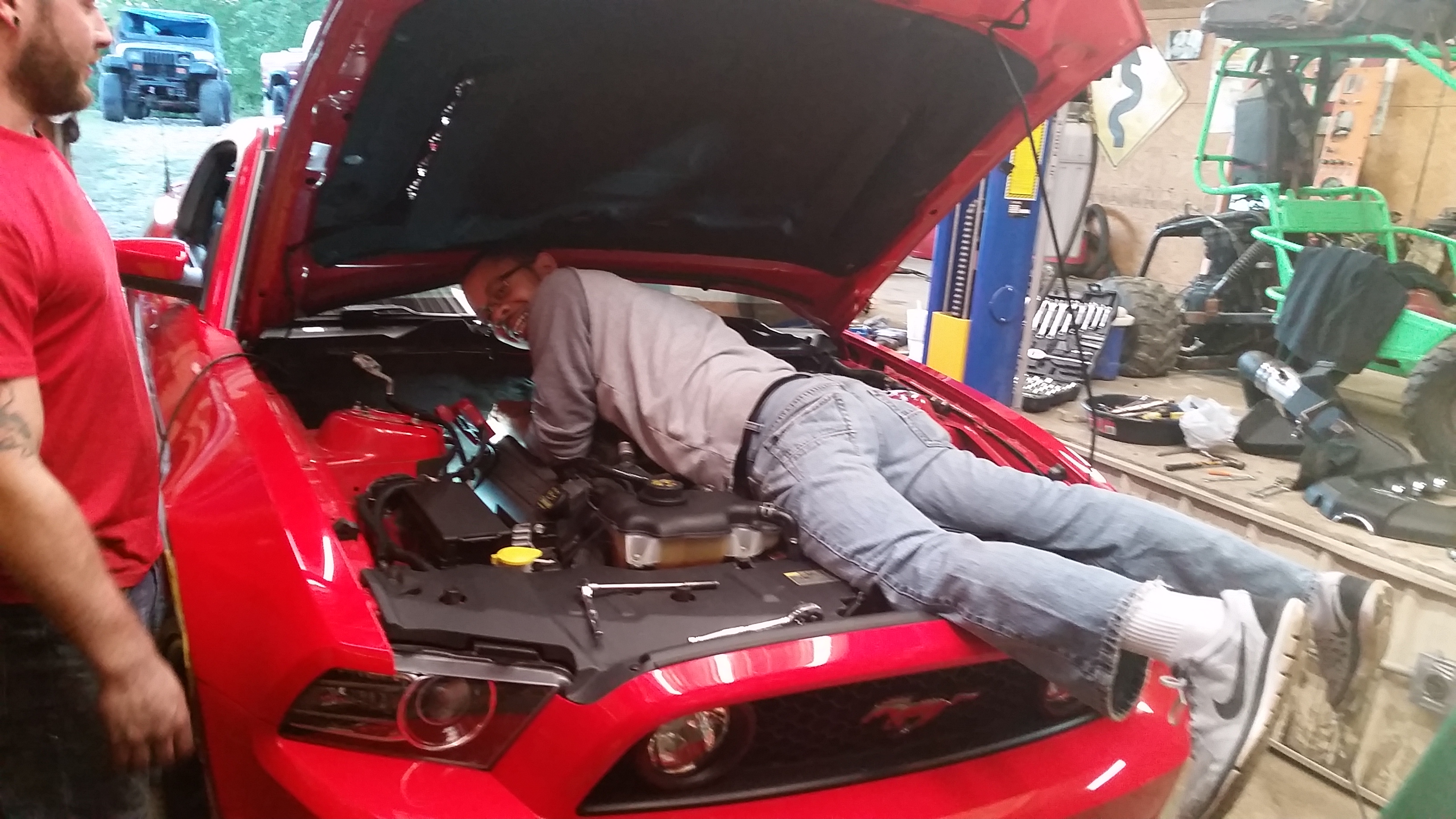 In all, it wasn't until about 8pm when we first fired the car up—only to discover a huge manifold flange exhaust leak—that the inevitable curse of modification is unavoidable.
We tried fixing it with mixed results. Both headers have a plaguing leak to this very day, though that didn't seem to affect the car's performance at first. I drove car all week to break in the clutch and drag raced the following Saturday to quell my anxiety for results.
I was disappointed, seeing that the car could do no better than a "measly" 12.7@113.8mph. It was an improvement, but not exactly what I expected.
I made excuses and loathed in self-pity for two weeks before I eventually sucked it up and decided to get rid of the ECU's unknown and poorly performing tune. I reached into my wallet, grabbed $550 and contacted Lund Racing for their newest nGauge tuner and datalogger.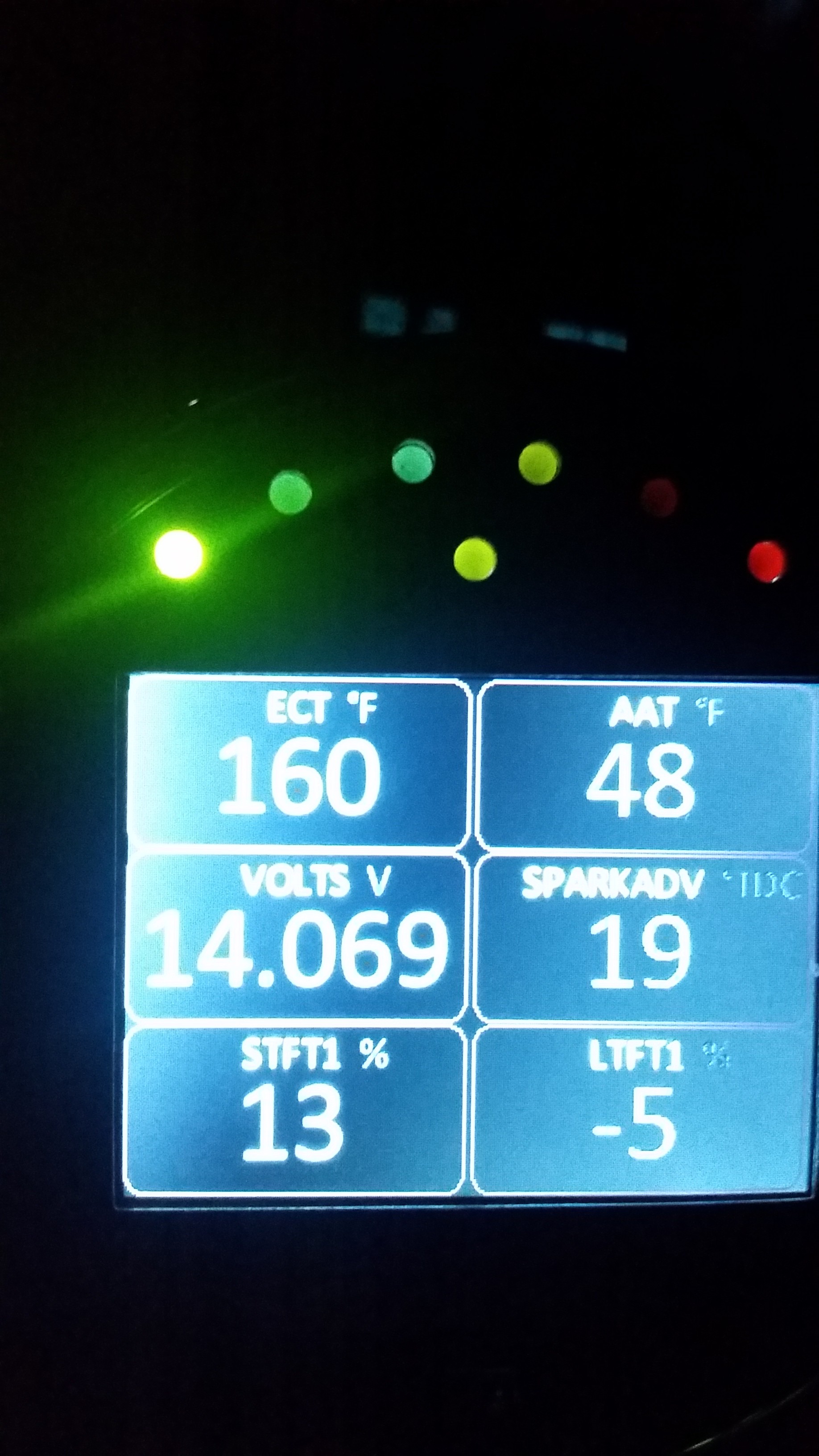 Before today, I had been a staunch critic of mail order tunes, but the paranoia faded when I hook up the device to the OBDII port, flashed the tune, verified that it wasn't going to destroy the car (via datalogging), and drove it.
Except that it didn't feel any faster. Shit.
I returned to loathing in self-pity, at least until I blew the doors off of a 2010 Camaro SS on the way to work. Maybe I was wrong, and I would prove just that when I rolled up to the staging line at Edgewater Raceway on November 12th. Honestly, I didn't expect the car to hook up with a damn in the 58 degree weather, but I hoped to see a trap speed higher than 115mph.
The first pass was a bit of a botched launch, but I still broke my personal record: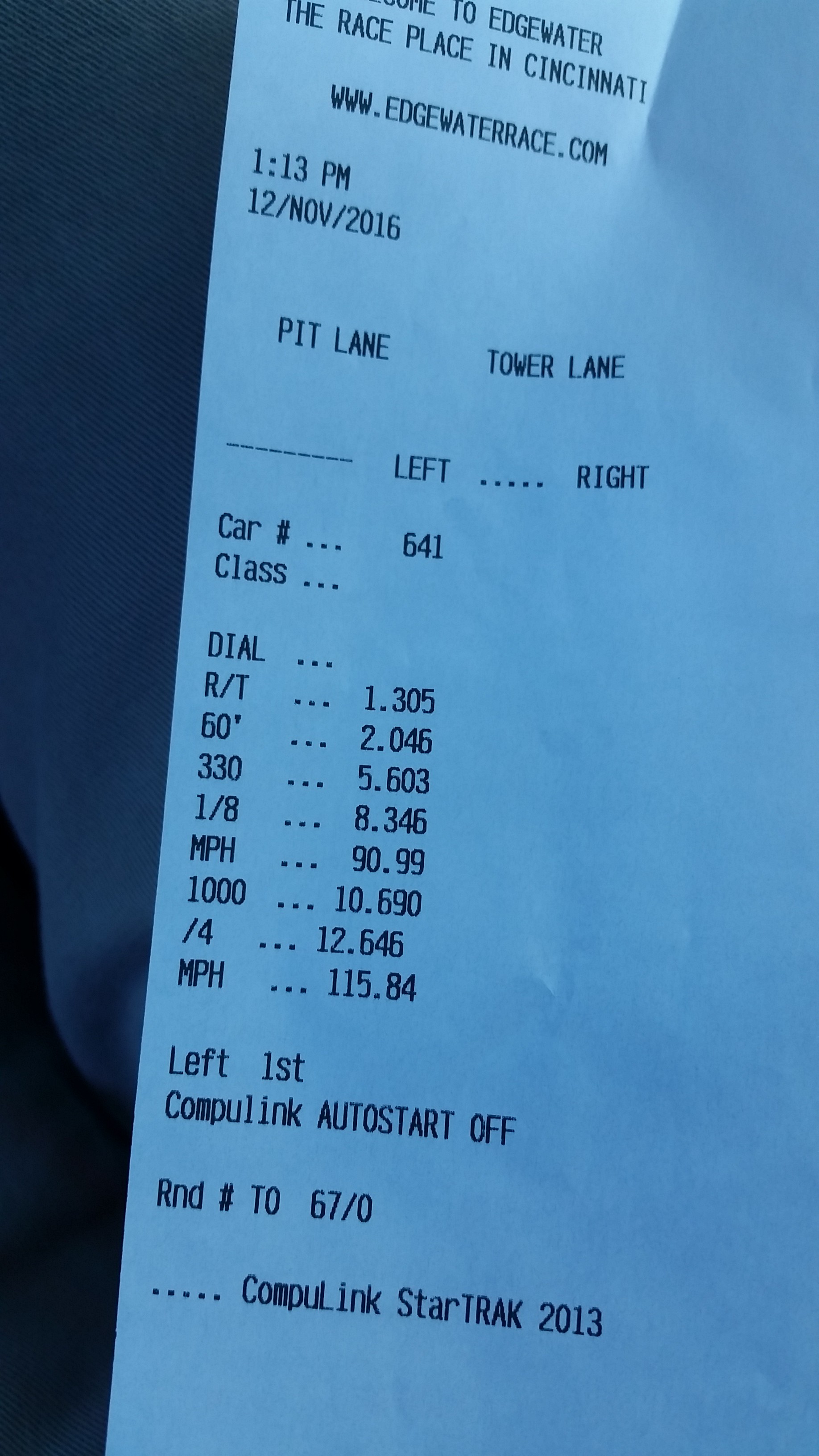 Yes, that's a solid 12.646 at nearly 116mph. I was overjoyed, and as I bathed in excitement and relief, I decided to take the car up for another pass to prove repeatability.
That time, it launched like it was strapped to a catapult, breaking through a 1.878 60 foot time (yes, on the 235 width Sumitomo all season tires at 35psi) to run a 12.260@116.5mph.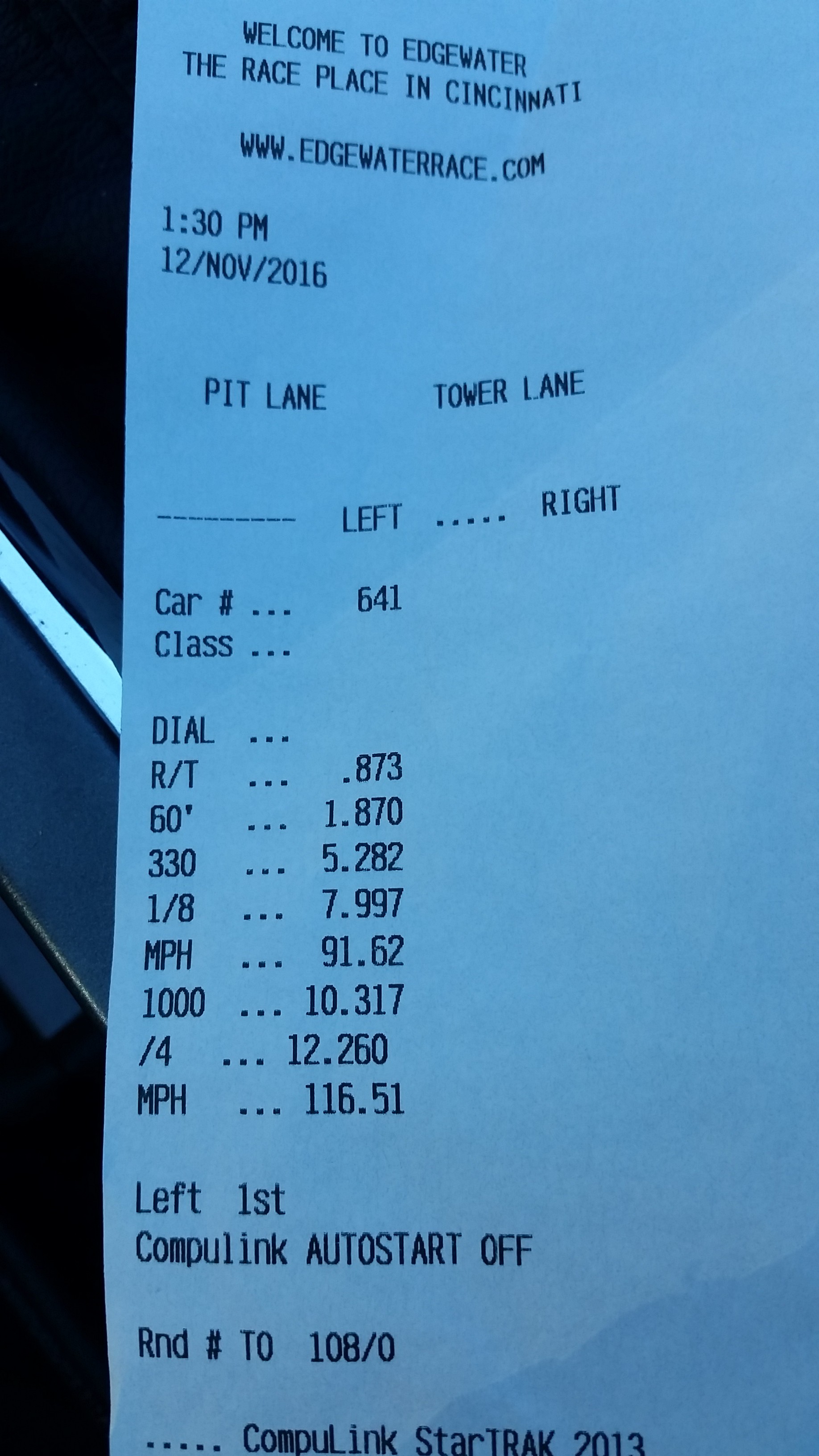 Victory. Absolute victory.
Not only did the car perform this admirably with no extra preparation (I have a rule of running my cars exactly as they are setup for daily driving), no weight reduction, and no special fuel, but it did so in such a fashion that clearly put the Mustang in a new league of automobile.
I read a recent article of Car and Driver, and discovered that my car, a lowly Ford Mustang GT, is apparently just as fast as a brand new 2016 Chevrolet Corvette Grand Sport. Yes, I no longer have to fear a factory trim Corvette. My car was now just as fast, if not faster, than the AMG Mercedes-Benz models that I used to fantisize about in high school during the early to mid 2000s.
Let that sink in.
The stars aligned and I got the last bit of fair weather just before the racing season buttoned up to a close. The headers still leak, and the car is even more brashly unrefined than it was to begin with, but hell, at least we had some fun together this year. Now with the freezing temperatures settling in and snow around the corner, I'll put Ruby back into the garage where she belongs and trickle back into Stage 1 of the Money Pit Cycle again.
Even now, I find myself searching for ways to make it even better, but this time I'll focus on suspension and brakes.
After all, taking off perfectly good parts and replacing them is one of the most absurdly agonizing/gratifying things to do.
–Bryan