Abstract:
Okay, I'll admit it: I go through too many cars.
Though I'll have to say that my infatuation with the automobile is long-lived and a permanent part of my psyche, I'd have to say that this recent purchase was a little impulsive. I have always had a "thing" for V8 muscle cars, likely due to their obvious endowments of power and glorious rumbling noises, but since the departure with my beloved GTO, my soul has longed for another.
The Genesis, despite its other niceties, simply didn't measure up. Aside from its expensive looks, feel, and posture, it never stung will with my soul. Obviously, my best bet would've been keeping the GTO (which was nearly paid off by then) and driving my old Mazda on a daily basis. Instead, I wanted something new. I wanted something that I wouldn't spend my money on. I tried to kick the habit, my habit of consistently wanting more from my automobiles than what they are capable of as factory vehicles.
Overview:
It didn't last. Though the Genesis went through its trials and tribulations at the hands of an incompetent driver that rear ended it and another car, it served well enough. It was my "top of the world" car. The one that made me feel rich and successful, but then I determined that excess wasn't needed for this. Touching base with my family and my life, I knew that appearances only went so far. I sold the car and picked up the Infiniti, and though this otherwise excellent automobile served extremely well during its brief stay, I once again dumped it for another affair.
This one, and we'll call her "Ruby" for the sake of reference, is here to stay for a while. I have run out of "free passes" of equity and I wanted another race car so bad, that I saw one and bought it. This car represents the involuntary end of the struggle. Unless I want to make a bad financial decision, this car is it.
I mean, hot damn, I've always been a fan of these things. Back in 2013, I posted this on Facebook: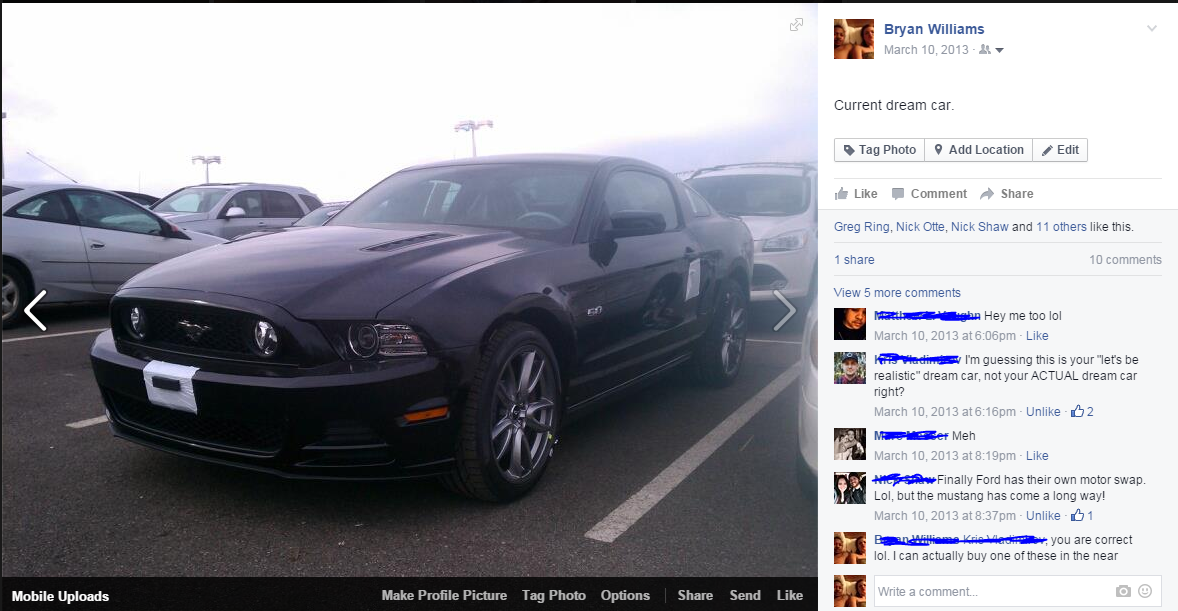 No, I wasn't lying. I have always loved these cars. Though I drool and fawn over high-priced exotics like any other schoolboy, the adult version of me has always sought out more attainable rides. Considering that we're living in the golden age of the automobile, I figured the high-powered muscle cars of the early 2010s were a good choice once their prices dropped from the 30k range. They took everything my GTO represented and simply expanded upon it. So, for a while, my dream car was a 2013 Mustang GT 5.0 with the track pack.
In fact, I actually drove to Dayton with my wife to look at one exactly like the one pictured above, but the dealership was filled with assholes. I have great credit, and my income is definitely sufficient, but that appears to not be enough to deter nonsense. Doing the stealership double-talk isn't productive, so I drove back to Cincinnati and bought a red one.
I stumbled upon this 2013 example via the internet. I talked to the dealership and negotiated a deal by the following afternoon. Yes, I traded in a car. Yes, I know that is frowned upon. Yes, it is the last time that I ever do that. I drove home in a red Mustang GT 5.0.
Well, a very red one.
Design:
But, oh my, isn't she pretty?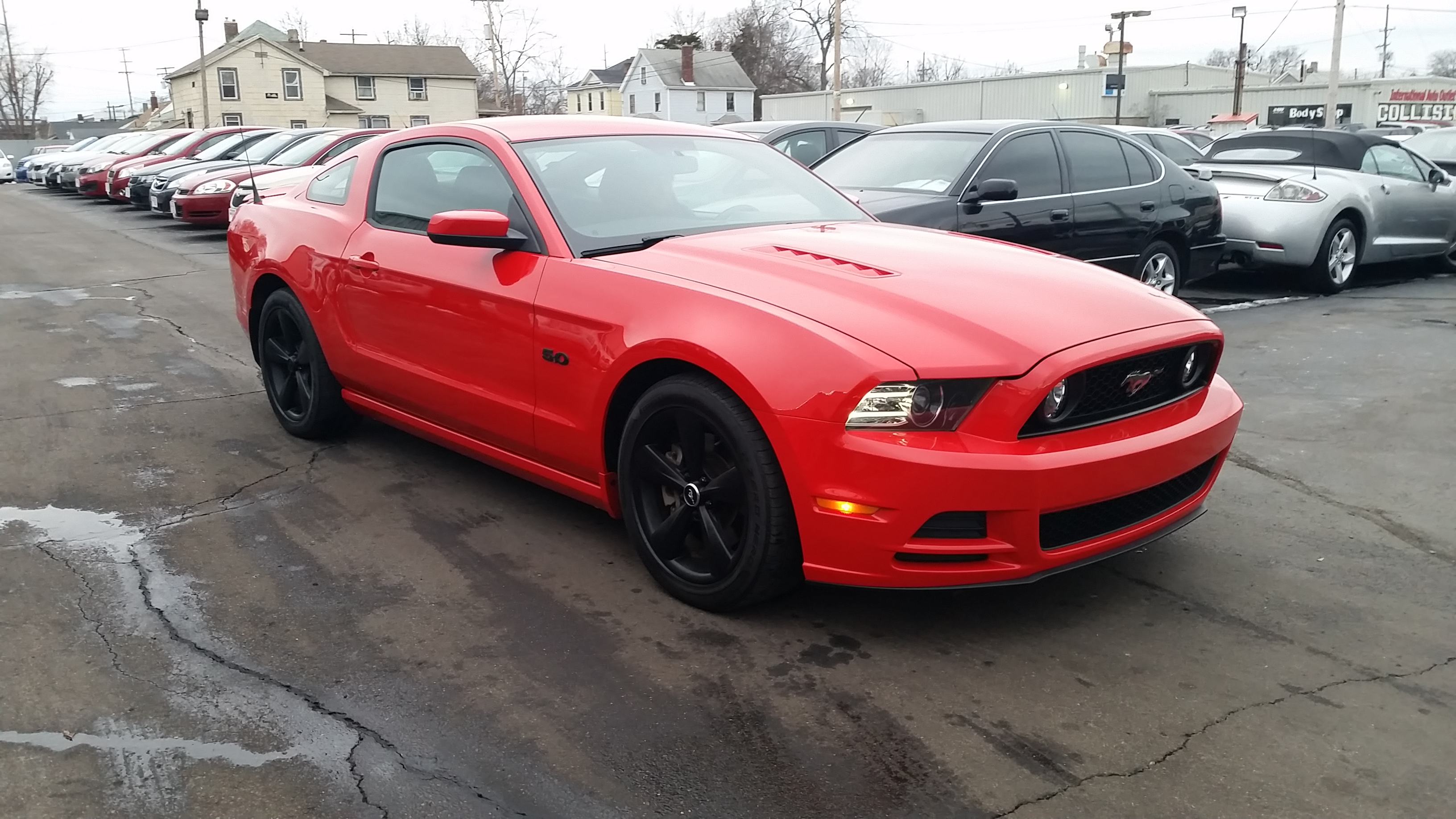 The haunches are pulled tightly into molded creases that exude power. Though the belt line is high, visibility doesn't suffer nearly as much as its Camaro and Challenger rivals. Luckily, the gigantic A-pillar mirrors include Ford's nifty blind spot mini-mirrors. If all else fails and the area ahead is clear, just drop to fourth gear and hammer the gas pedal. Within moments, the Mustang is front of anything that was beside it. The base wheels are a bit tiny, and these plastidipped examples will definitely receive a legitimate powdercoat of paint.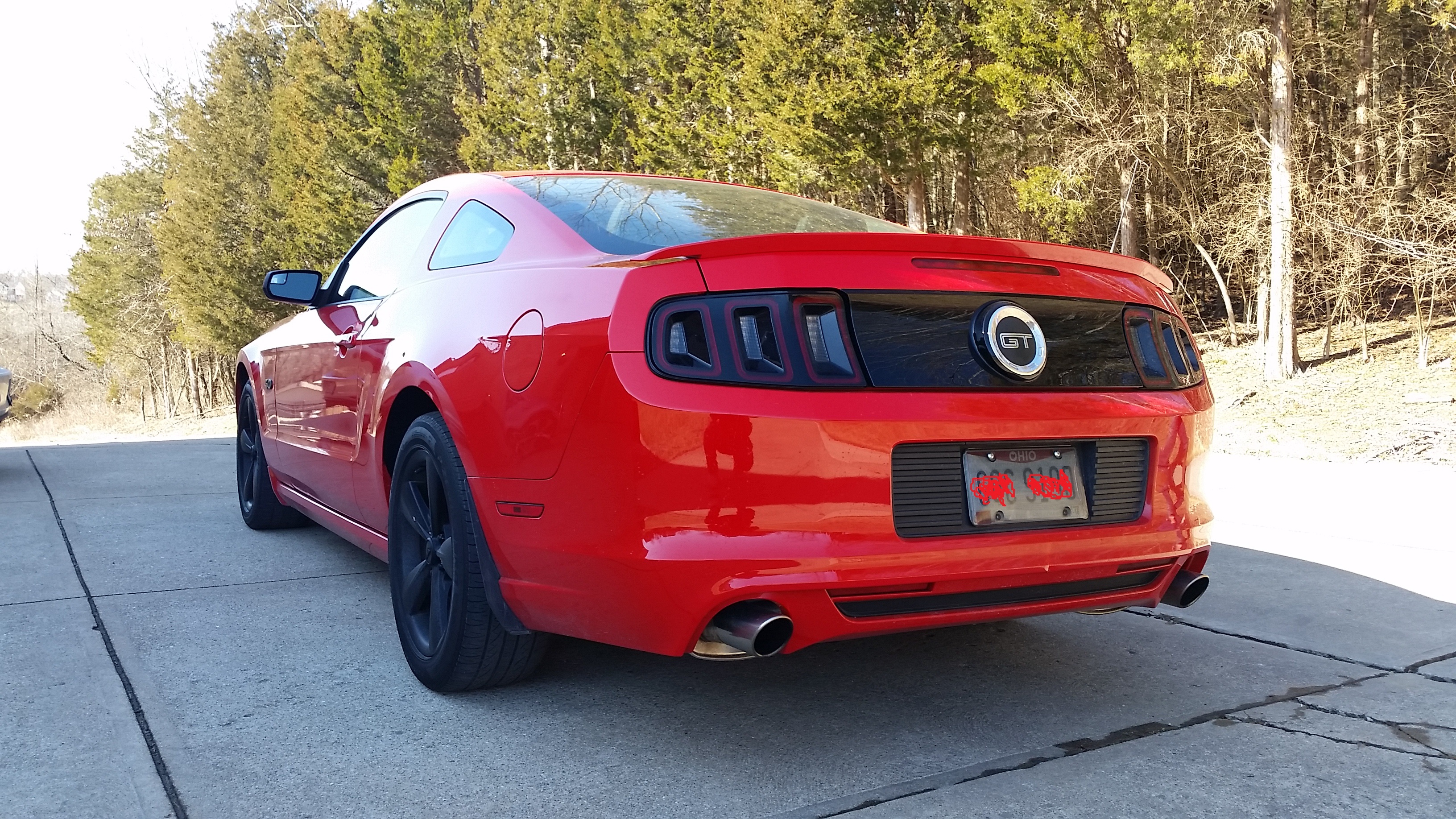 To me, I prefer the exterior updates of the 2013 versus the prior version. Mostly, the front a rear views come to mind with the refresh, where standard HID headlamps were applied as well as LED running lamps. The taillights look amazing, and the 1-2-3 sequential turn signal thing is pretty cool, too.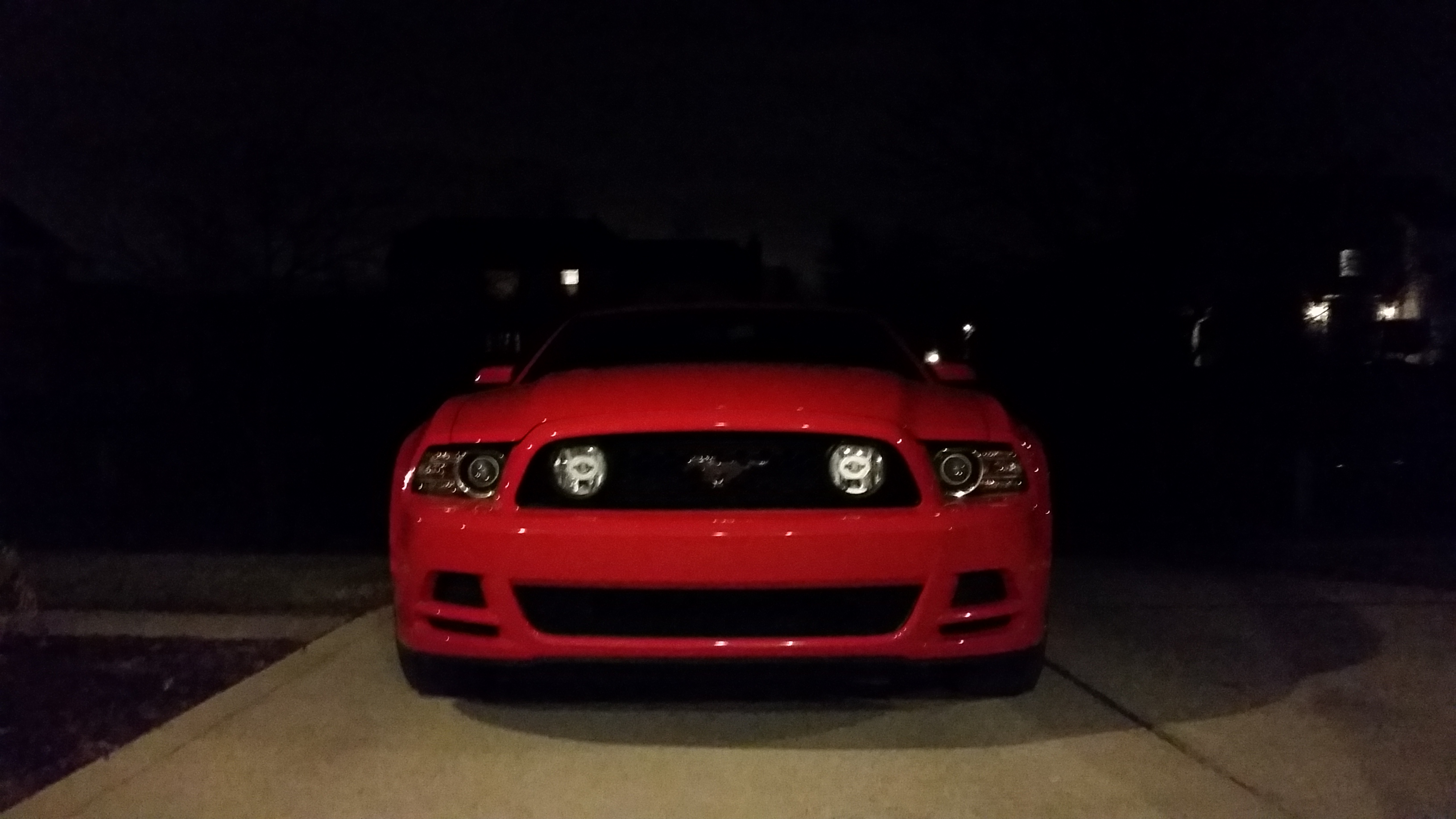 The interior belies nothing at all to write home about. My particular car is a base GT, with little more than basic equipment like cruise control, power windows and locks, as well as the Gen1 Ford SYNC system. The seats are cloth, but they are surprisingly comfortable. I wish I had taken more photos of it for the sake of this post, but I was too enraptured with the exterior.
Who cares about the interior, anyways? This is a racecar.
Dynamics: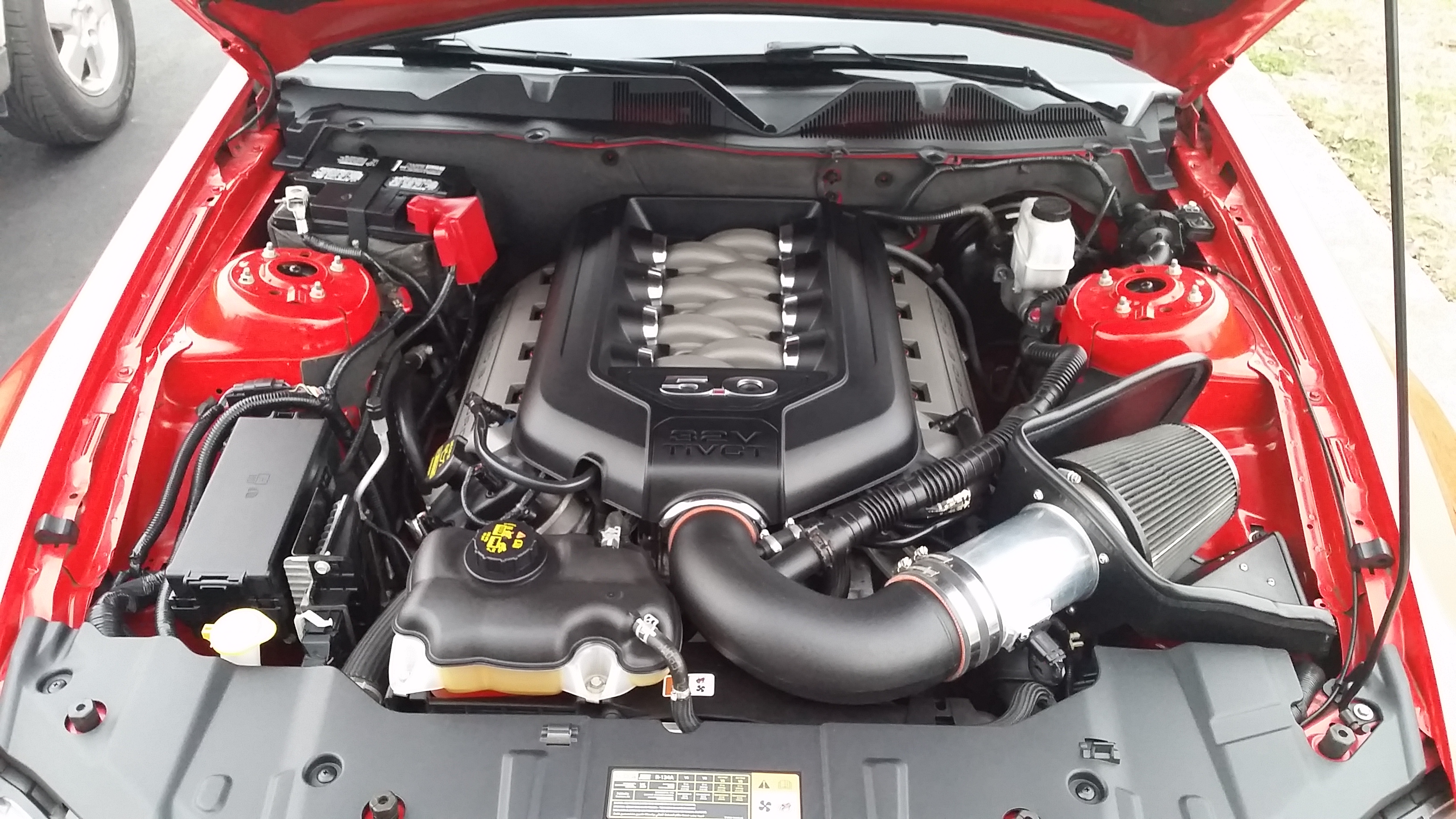 Yeah, the engine. That's the primary focus in this section. Everything else kind of wraps around it.
Overall refinement is lacking.
The first thing that hit was me was how crude this car felt versus my previous two.
I hear all kinds of whines, bumps, shivers, and gears. It sounds like a proper basic trim racecar. The engine, a lusty and extremely powerful 5.0 liter 32 valve V8, seems to run with extremely deliberate cylinder pulses at idle and at low load. I mean, seriously, it seems like you can hear and feel the individual cylinders firing in their concert. The Getrag MT-82 is, well, more fitting for a delivery truck than it is in this car. I had gotten a few recommendations for the automatic version, but my compulsive car buying itch wouldn't allow for any type of patience required to find one. The transmission is clunky and loud, but the gears seem well-matched to the engine's powerband. Still, I wonder why Ford didn't use the tried and true Tremec T56 or TR6060.
I'll swap one in in the near future.
Anyway, this car, with a reasonable 41,000 miles on the odometer, runs like a rocket ship. Paying mind that the tires are the Pirelli PZero Nero A/S that originally came with the car 2 years ago when it was manufactured, I must say that it is extremely difficult to find sufficient traction on the cold and salted pavement. First and second gears are unusable above 50% throttle. Third spins for a few moments until the poor old tires finally get a bite. The clutch provides a leg workout each time it is disengaged, oh, and the pedal sticks to the floor at high RPM.
Dammit.
Still, aside from the traction issues, this car is clearly the fastest car that I've ever owned. Unlike my old LS1, the Coyote doesn't necessarily overwhelm me with low end power due to the obvious displacement difference, but it more than makes up for this with the prominence of its top end. Though I had sworn to the LS series of GM single-cam small blocks, this Ford Coyote engine has made me as giddy as a joyful child with one kick of the tail end and one hearty shove in the back. Oh, and I'm aware that nearly every automotive journalist talks about how a car pulls, but any doubters should be signed up to witness this thing.
I knew the motors were strong, but not this strong. Also, with the plethora of aftermarket modifications, I know that the fun has only begun. Point blank, in terms of straight line performance, I'm sure that this car is more than capable of a quarter mile in the 12 second range. We'll see when the track opens.
Curvy road evaluation suffered from the same issues that the Genesis did last year. The salted roads and cold pavement play hell on worn out tires, though I can say the body roll is kept surprisingly in check for such a crude brute of a car. The steering (at least after we fixed it at the Ford dealership) is also surprisingly and excellently weighted and communicative. I knew this was when Ford began expressing its ability to make its vehicles handle with poise, but experiencing such an adept control of body motion in a base trim GT was satisfying. Keep in mind that this was purely 6 to 7/10ths driving, mostly because Ruby grew frightening when I pushed her to 8/10ths. Suddenly, the car devolved into terminal and alarmingly severe understeer.
Once I had crossed the double yellow line, AdvanceTrac engaged and attempted to save the day. Honestly, I believe it was more of my driving skill that righted the vehicle course more than the computer, and speaking of the nanny, it's largely absent. I know that the car encourages the art of hooliganism, but this stability control system is scarily lenient. The driver can practically spin the car 90 degrees before any intervention occurs, and because of this, I have refrained from being an idiot. Fortunately, this allows for rather aggressive driving with the system still on. Usually, I complain about the over-intrusiveness of such systems (like in the Genesis), but this time I'll verge on saying the opposite.
Suspension wise, it rides like a truck, probably because the rear axle is very similar to one from a truck. Before you dismiss this as a ridiculous complaint, I'll go ahead and say it:
This ain't no damn Lexus.
Brake pedal feel and performance is quite well despite the absence of the Brembo package. Though I would've gladly taken one with the upgraded wheels and brakes, I'm definitely sure that this car will more than suffice.
Efficiency:
Yeah, it's not a Prius either. Over the week that I've owned the car, I've driven it at least 1,100 miles while managing to average roughly 18.0 mpg. This isn't anything spectacular, but hell, it's a damn V8 muscle car. Considering the fact that I usually baby it and meander through the streets, I won't complain too much.
If anything, I just hate that the damn gas tank is so small. 16 gallons is far short of what is needed for a decent cruising range. I filled the car up twice in 48 hours. Oh, and by Sunday night, I used another 1/4 tank.
Conclusion:
So far, this car is a hoot. I enjoy the attention it receives (well, not from the police), and the way that it makes me giggle with joy in second gear when it kicks sideways. I never thought of myself as a Mustang owner, but this generation was the one that finally did me in. Considering that this car will sticking around for a while, you'll read more and more updates regarding my travels and events as time progresses.
All hail the racecar.
–Bryan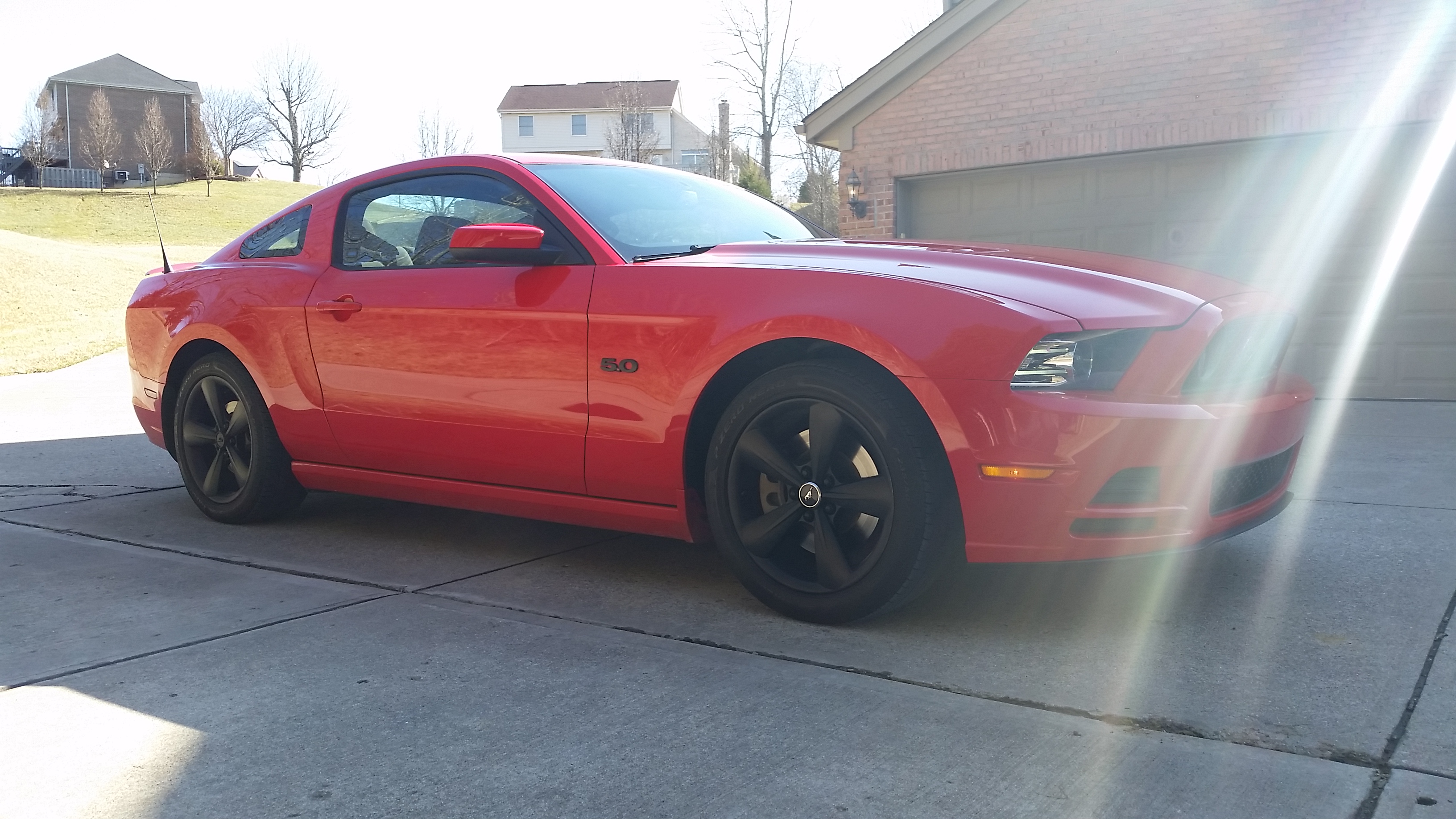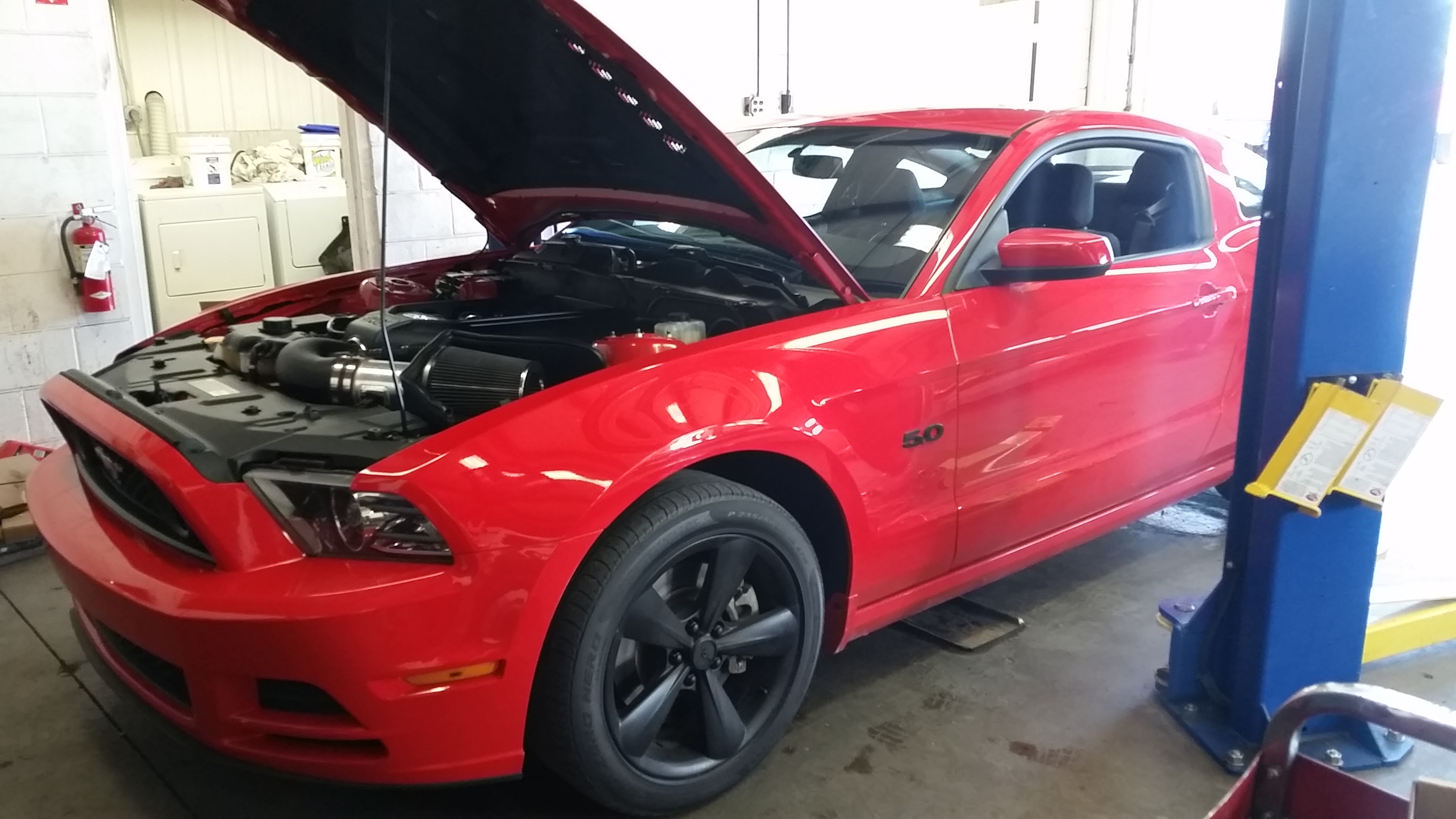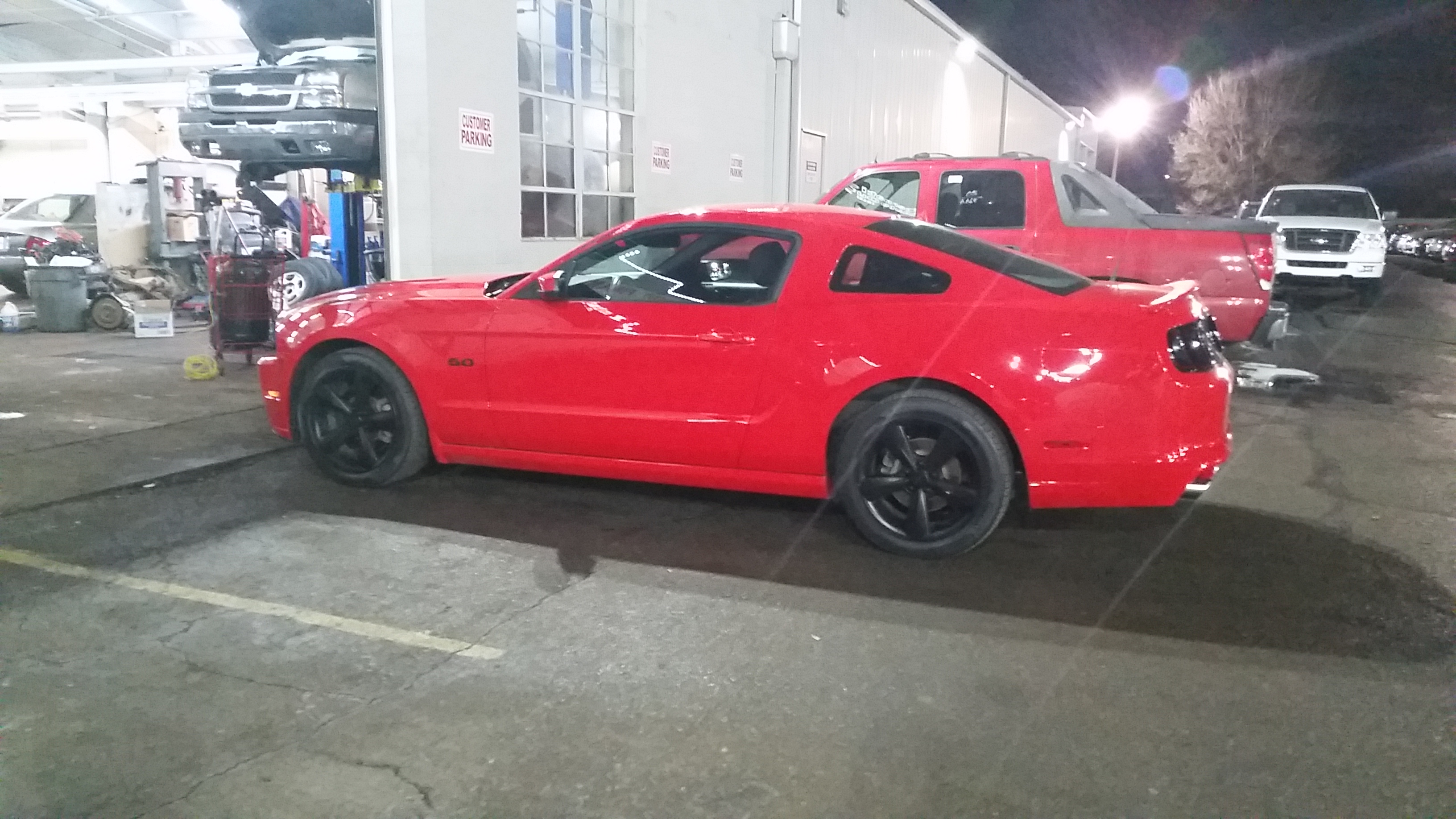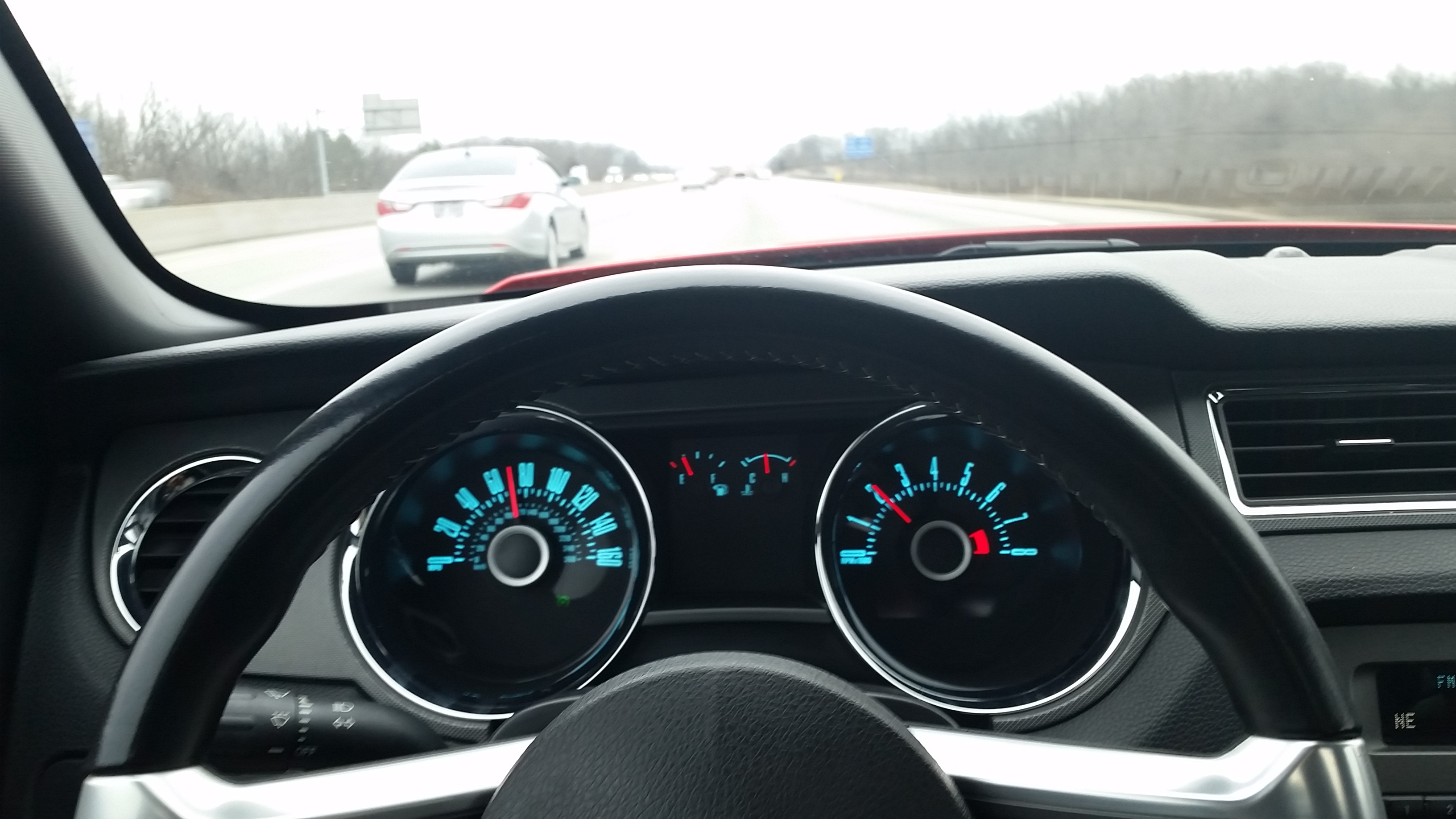 Vehicle Details:
Categorization
Vehicle Class: Automobile
Style: 2-door coupe, grand touring
Manufacturer: Ford Motor Company
Designation: Mustang
Sub-designation: GT 5.0 Base
Specifications
Length: 188.5in
Width: 73.9in
Height: 55.8in
Wheelbase: 107.1in
Curb Weight: ~3,580lbs
Engine
Type: Continuously Reciprocating Internal Combustion
Layout: V8
Valvetrain: DOHC, Dual & Continuous Cam Phasing (TiVCT)
Displacement: (bore x stroke): 4,951 cc (302 cu in) (92.202 mm × 92.71 mm (3.63 in × 3.65 in))
Compression Ratio: 11.0:1
Fuel Delivery: Electronic Gasoline Port Injection
Horsepower: 420** hp @ 6,500rpm (313 kW)   **in stock trim
Torque: 390 ft·lbf @ 4,250rpm (528 N·m)    **in stock trim
Transmission
Type: Constant mesh, single-clutch
Control: Manual, human Control
Input: Single plate dry clutch
Gears: 6 forward, 1 reverse
Driven Wheels: Rear
Differential Type: Helical Limited Slip
Gear Ratio(s):
First Gear (:1) : 3.66
Second Gear (:1) : 2.43
Third Gear (:1) : 1.69
Fourth Gear (:1) : 1.32
Fifth Gear (:1) : 1.00
Sixth Gear (:1) : 0.65
Final Drive Axle (:1) : 3.31
Measured Performance:
Top Speed
145mph (speed governor)
Acceleration
Undetermined due to road conditions.