Overview:
Luxury.
Yes, this is the term that has been overused beyond the point of obsolescence, yet it still has a distinctive ring in our heads. It symbolizes an exuberance of materialistic addition to something that is usually considered commonplace. A house is merely a dwelling suitable for residence, yet a mansion is its luxurious counterpart. No one needs expansive burled hardwood flooring when there are cheaper, more durable, and more easily produced vinyl floor overlays. No one needs a $10,000 chandelier hanging above the dinner table, yet it looks a hell of a lot better than a $25 unit from Walmart.
The idea of having something of a higher class than necessary is a staple point of human existence. In all that we've aspired to, and in all that we've achieved, it seems as if the human brain is wired to always ask one simple question, "I wonder if I can have more?"
Thus, we finally reach our focus point: the luxury automobile. I imagine that one day, shortly after the unveiling of the Patent Motorwagen in 1886, someone considered throwing in a cushier leather seat, or perhaps, a roof. When the awesome Bertha Benz took it on the world's first automotive road trip, she installed a slew of upgrades along the way. By the time the Velo and its slew of newly arisen competition rolled around, the thought of a luxury car was well in the works. They had more pizzaz, curb appeal, and features as the technology developed.
An automotive company's ability to produce a truly desirable luxury car is largely considered to be a staple point  of capability. It's a testament of a firm's engineering and creative talent, a halo of sorts that tells a story of exuberance and purpose, even if they aren't cost effective and widely produced. People should be able to immediately identify and assess what the brand is capable of. The point, short of complicated terminology, is to show off.
With that noted, how do you feel about this kind of showing off?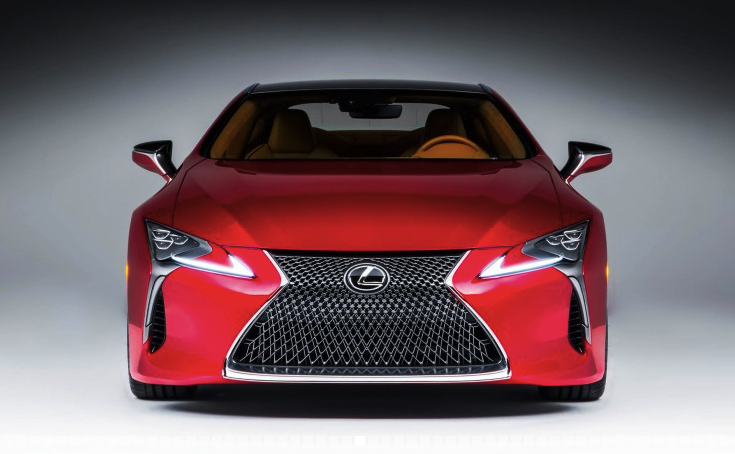 I quite like it. No, I seriously like it.
Taking Risks:
Risk.
Luxury cars generally embody this term due to their outrageous expense. In order to develop a halo car that is worthy of the halo prestige, the number one rule is that money must be spent. Most car companies have their comfort zones, where big wigs at the top of the corporate ladder check out Excel spreadsheets and graft their happiness from lofty profit numbers. Plain, cookie cutting econoboxes drive the profits higher due to basic economies of scale, where consumers find themselves coddled just enough for their liking in a car that they can actually afford. Building for the masses makes sense in practically every aspect, as the economies of scale mentioned earlier, generally makes it cheaper for any company to produce a vehicle per unit when more of them are manufactured.
It's a win-win situation for both the consumer and the manufacturer, which brings us to the point of the luxury car, which is usually manufactured on a far smaller scale due to obvious reasons. Taking a look at the general populace can easily display that it is far easier for the majority to afford a car with a $20,000 MSRP versus one costing $100,000.
Economically speaking, small scale, low volume luxury cars are a huge risk. They don't sell in large numbers, while they cost an enormous amount of money to develop. Bean counters and bureaucratic mongoloids hate them. Why do you think Cadillac sucked for decades under the notorious pre-bailout GM?
BEAN COUNTERS!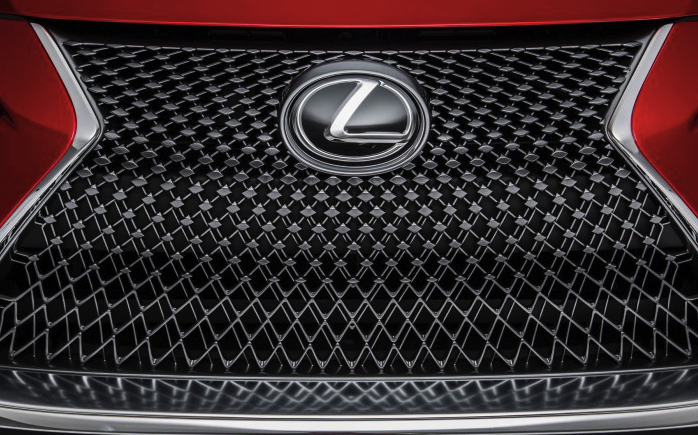 So, we reach Lexus, the ubiquitous high-end arm of Toyota. Birthed in the late 1980s, it quickly became synonymous with "serenity" and "blandness." Someone in the party of big wigs found this to be a very welcoming and prestigious quality, and they probably weren't incorrect, but that so happens to depend solely on perspective. I mean, I'm all about reliability, solid structure, serenity, and value, but the "blandness" part falls into the huge grey area of my psyche.
My parents owned a few Lexus vehicles when I was younger, namely a XV20 ES300 and a XV30.5 ES330. Both of them were built with an astonishing amount of quality, plus saying that my parents owned a Lexus was plenty cool, at least until I finally got around to driving the thing. I was merely a half mile in route to my prom date's house when I nearly fell asleep at the wheel from boredom. Seriously, the car felt like a rolling precision built GE appliance. The seats were comfortable, the woodgrain on the dashboard was real and rich looking, and the Mark Levinson sound system was incredible at playing classical music, but any type of excitement was sternly frowned upon. The drivetrain responded to throttle commands as if there was a line of calm old ladies passing notes to the transmission for a request to downshift. Yes, you read that correctly. In that car, when you pressed the throttle, you made a request to the onboard computer to speed up. Depending on what mood the computer was in at the moment that you filed the request, you either got a response, or nothing happened.
It was the epitome of a boring driving experience. Essentially, a Lexus driver was merely a pawn that piloted a bank vault on wheels. Thousands of people went for that kind of thing, but it appeared to be on the way towards fizzling out. As Lexus' competitors pressed forward with more daunting and daring design languages, the buyers shifted towards them. In the early 2000s, we were sure that Lexus had all but placed the last nail in the coffin of its German competition. Now, though they are not struggling for sales by any means, Lexus finds itself circling the drain of "has beens."
Much to the chagrin of the sane souls running the place, they've devised a plan to get their workload back on the map of effectiveness.
What's the first step? Dynamic improvement while maintaining the excellent Lexus quality and reliability.
What's the second step? A new design language. Lexus introduced the love-it-or-hate-it grille. They obviously became obsessed with polygons. Effectively, they've split the automotive fandom population in half regarding these changes. I sit firmly in the half that absolutely loves everything about it.
I like this new vision of Lexus, mostly because they spent the majority of their existence muddling in the utter refusal to take any type of risk whatsoever. They were so placated in the guise of making serene and mundane automobiles, that they were never allowed to tap into their full potential. They were never permitted to delve deeper into the engineering expertise that provided them with their untarnished legacy.
Finally, they see the light, and to show that off to the world, they've provided us with a proper flagship.
Elevated Status:
Let's just take a look at this thing.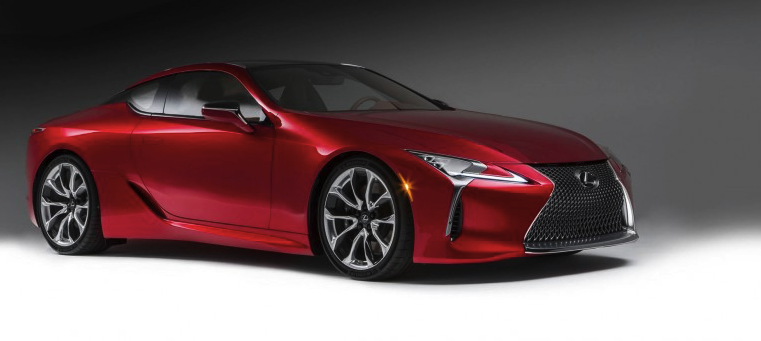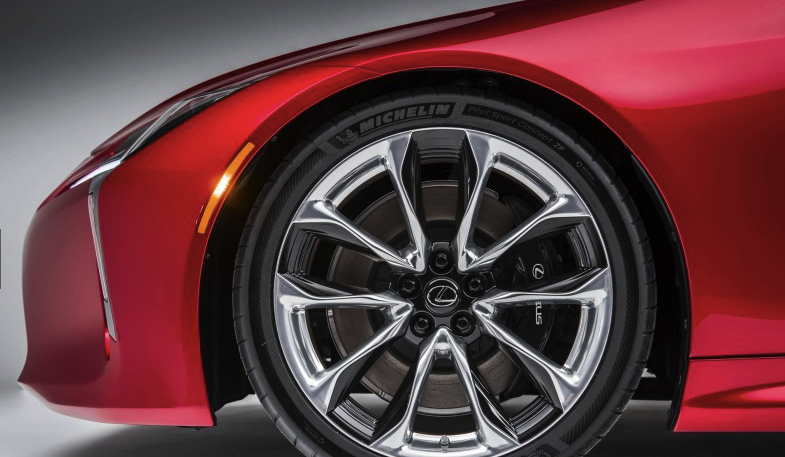 It sits perched on wheels that appear to present an insanely large diameter. Though I am not a resolute fan of the polished "chrome" look, I can appreciate the way that they they are clearly designed to complement the haunches of the body.
And, oh, what a body. . .

Somehow, they've managed to undo the sins of the admittedly funky looking Lexus IS series, and the slightly "overweight" looking RC coupes (The RC-F and RC350 F-Sport are quite awesome looking in comparison). I've read that great hurdles were overcome during the design phase of this car. The engineers managed to maintain the overall profile of the lowly-slug LFA, you remember, the $375,000 alpha car that finally saw the light of day. . . only after resting dormant for years in stagnation? The fact that they were able to make the LF-FC concept car, and finally produce a production version that is nearly indistinguishable from it speaks wonders.
There are no overtly awkward proportions here. To me, this is a proper Grand Touring coupe, fitted with the necessary elements to beget its proposed $100,000 price tag. Normally, I'd decry such a declaration, but upon closer examination of the sheer detail, craftsmanship, and technology packed into this vehicle, I'll say "have at it" without hesitation.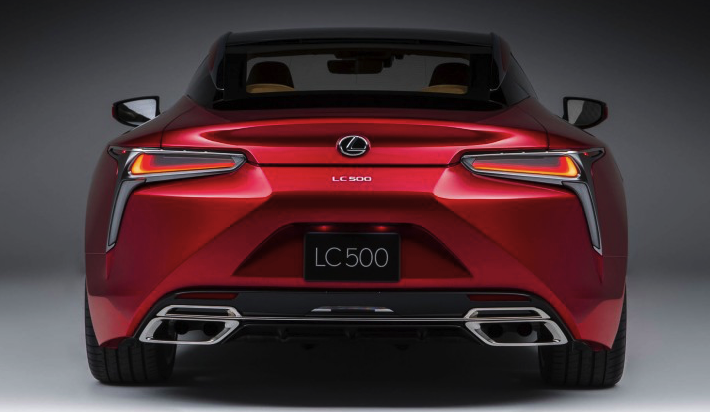 It looks like nothing else on the road, and in fact, my excitement upon its release was reminiscent of the days in elementary school where my parents would purchase folders with wild concept cars drawn on the covers. Back then, they were merely figments of some dreaming designer's imagination. Whenever I asked about the concepts, I was always told that they weren't real.
The auto companies couldn't make them. They were only concepts.
Well, now, I have the concept car of my boyhood dreams right in front of me. This.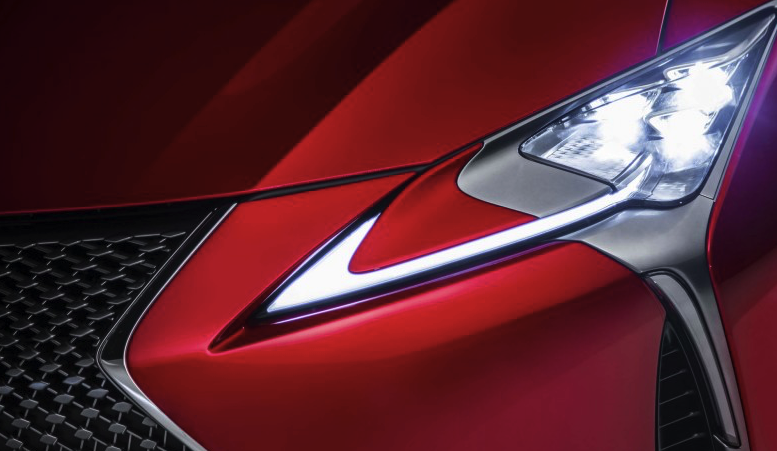 And in a grace of benevolence, the artistry of the exterior flows cleanly into the interior.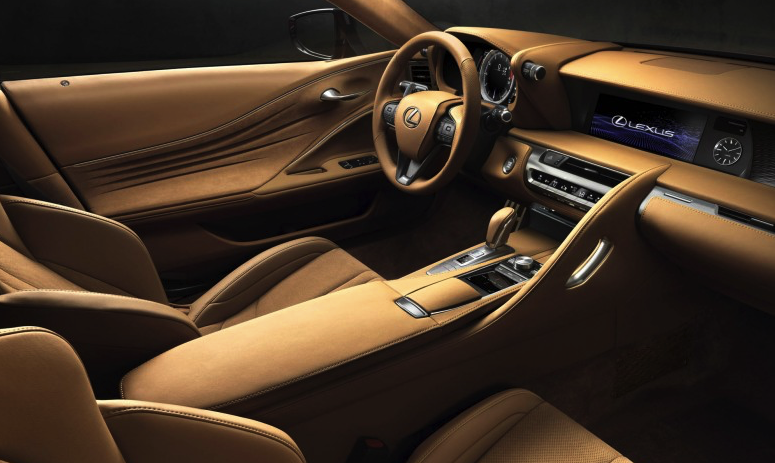 Gone are the typical Lexus signatories from yesteryear. There is no abundance of woodgrain on the dashboard, no pillowy soft seating surfaces, no cassette tape player, and hopefully no scented cabin filter specifically designed to remind you of a dentist office. Here, we have a glimpse of the future, where the only problem I can detest is the random grab handle fixture jutting from the center console and into the dashboard. If I was forced to live with it, I could.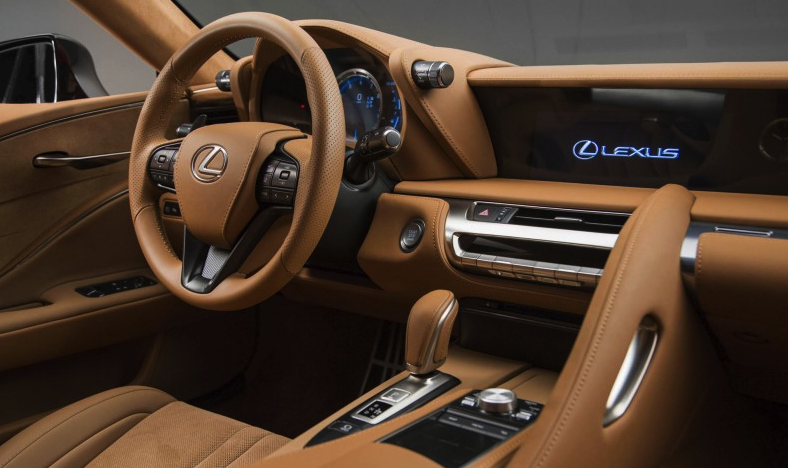 Yet, the gauges have their obviously sporting intentions displayed to us all. The tachometer gets the brunt of the dial gauge duty, yet their fashion is similar to the current designs seen on the IS and RC models. My only quip is that they are fully digital on the LC500.
Something about the mechanically articulating gauges of the IS made my blood boil with admiration. It's sad to see this absent on the flagship.
Bummer.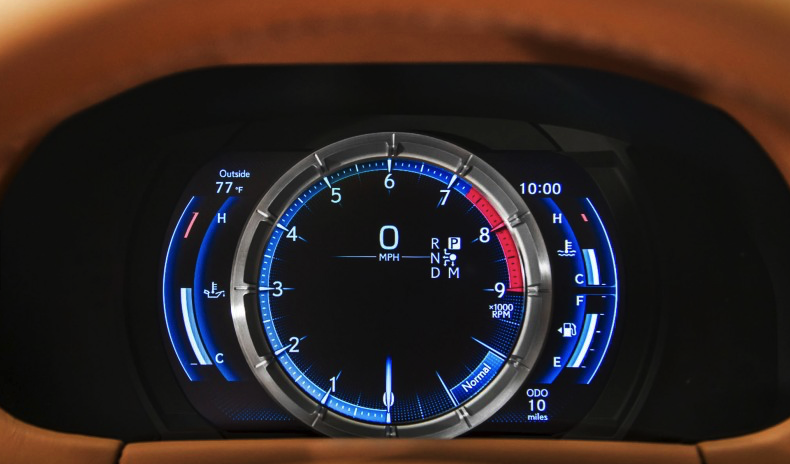 Check out that steering wheel. Observe the contours clearly molded to encourage the proper grasp of the wheel during, well, particularly aggressive driving. Lovely shift paddles adorn the sides. I hope they actually command the 10 speed (cringe) automatic transmission to shift, rather than file a request to do so. I still think that 10 gears is way too many, but I'm led to assume that the Lexus powertrain engineers are a bit wiser than I am.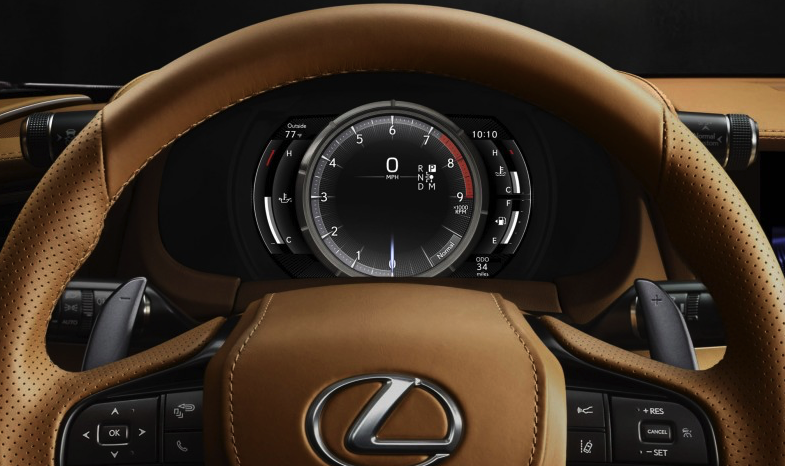 Hopeful Dynamics:
If there is just one faint and sadly unconfirmed hope of mine, it's that this vehicle will find the success that Lexus needs. As discussed in-depth above, a flagship's point isn't to increase profitability through sales. The Germans and Italians know this. Instead, the point is to promote the future of a particular brand, to show the people what it is capable of.
The LFA, no matter how beautiful and audacious that it was, faded into the abyss. Fortunately, it did open up a new era of Lexus ingenuity and passion. The extremely limited numbers did little to elevate industry exposure, but it did prove that Lexus was finally capable of freeing itself from the safety bubble placed by management.
I sincerely hope that the LC500 drives as good as it looks, though it appears to be forthcoming. By the reviews that I've read from Motor Trend and their professional driver, Randy Probst, I have reason to believe that my ultimate Lexus fantasy is about to come true.
Ladies and gentlemen, our dear friends at Lexus have finally given us a proper flagship automobile that is truly and absolutely desirable beyond measure. This is the car that we've been begging for.
Now, I just hope that this arguably lusty 5.0 liter V8 is sufficiently endowed to push this car into the hearts of those wealthy enough to purchase one.
467bhp sounds awfully tempting, but there is plenty of worry in the automotive community regarding the rather "paltry" 369lb-ft of torque. Either way, if they keep the mass down (which they have so far claimed), it looks like their claims of "sub 4.5 second 0-60mph runs might hold true.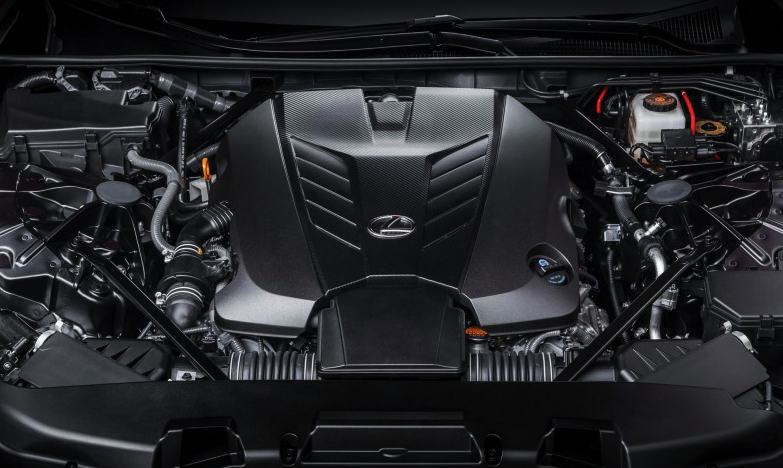 That, my friends, is damn good for a proper luxury car, and a proper flagship.
Long live Lexus, and bravo for unveiling the best car of the NAIAS.
–Bryan
(images courtesy of Lexus and Car and Driver)