Chrysler and Dodge are dying. It's not hard to read the tea leaves. They are decades behind in hybrid/electric technology, their mainstays are built on decade plus old platforms and will be until at least 2022, and they are lead by a CEO that seems more interested in the US dealer networks of Chrysler and Dodge than the brands themselves. Dodge and Chrysler both experienced sales drops in 2016, with Chrysler total sales coming in a whopping 27% lower than in 2015. Ram trucks still sell, ranked third among full sized pickups in 2016, but they also aren't Dodges anymore, a split that occurred fairly quietly 6 years ago. FCA also attempted to distance the Viper from the Dodge brand around the same time, placing it under the SRT moniker before reluctantly bringing it back into the fold a short time later and ultimately ending the production of one of America's most interesting cars this year. Without a major change or capital infusion, we may be seeing the final years of the Dodge and Chrysler brands as we know them, and when the final bell rings for two iconic American auto makers it will be a mournful occasion, especially for the millions of Mopar fans across the US and the globe.
For now though, car enthusiasts around the world can rejoice because Dodge is giving us the greatest swan song in automotive history. A beautiful symphony of large displacement V10's, whining superchargers, squealing tires, and raw, unapologetic horsepower. So enough of the doom and gloom, we've got a few seriously awesome vehicles to discuss.
2015: Year of the Hellcat
While the early 2010's saw Chevrolet and Ford in the middle of a horsepower race with the Camaro and Mustang respectively, Dodge had remained quiet with it's Challenger. The 580hp Camaro ZL1 had prompted Ford to drop an all new 5.8 liter supercharged V8 with 662 horsepower into the 2013 Mustang GT500. It was a wonderful time to have a mullet.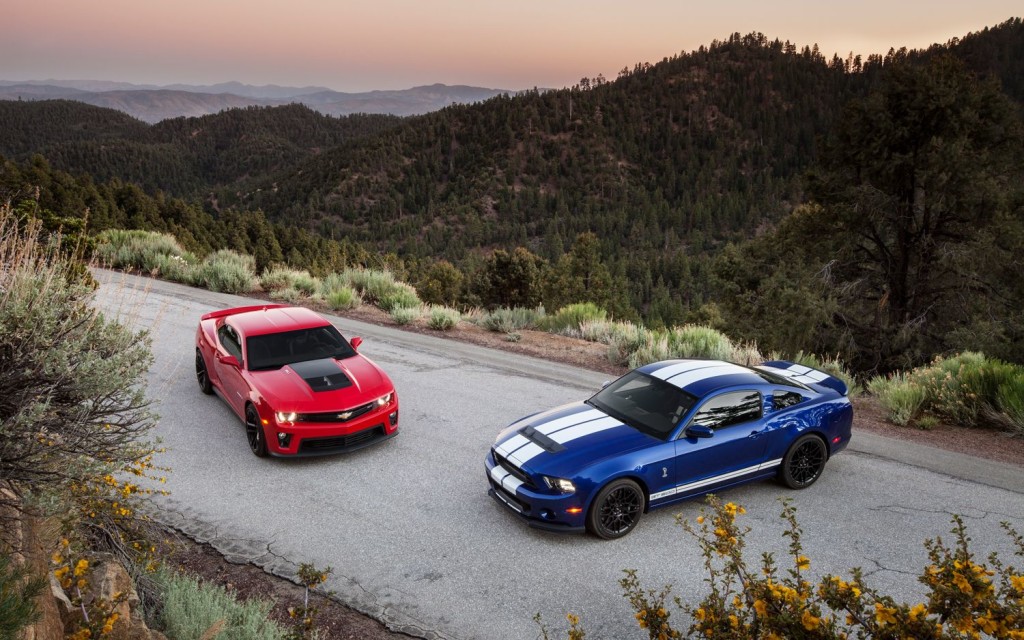 (Via Motortrend)
When Dodge finally responded, it did so in a big way. Seven Hundred wonderful horsepower big. A 6.2 liter Hemi V8 with a 2.4 liter IHI supercharger force-feeding it over 11 lbs of boost. Final output? 707 horsepower, 650 pound-feet of torque, 0-60 in 3.6 seconds, and a quarter mile in 11.2 at 125mph. The best part? It wasn't just going into the muscle car Challenger, oh no, we were getting a 700 horsepower, 200 mph, all American (unless you count the old German chassis) sedan. There was a new horsepower king, and its name was Hellcat.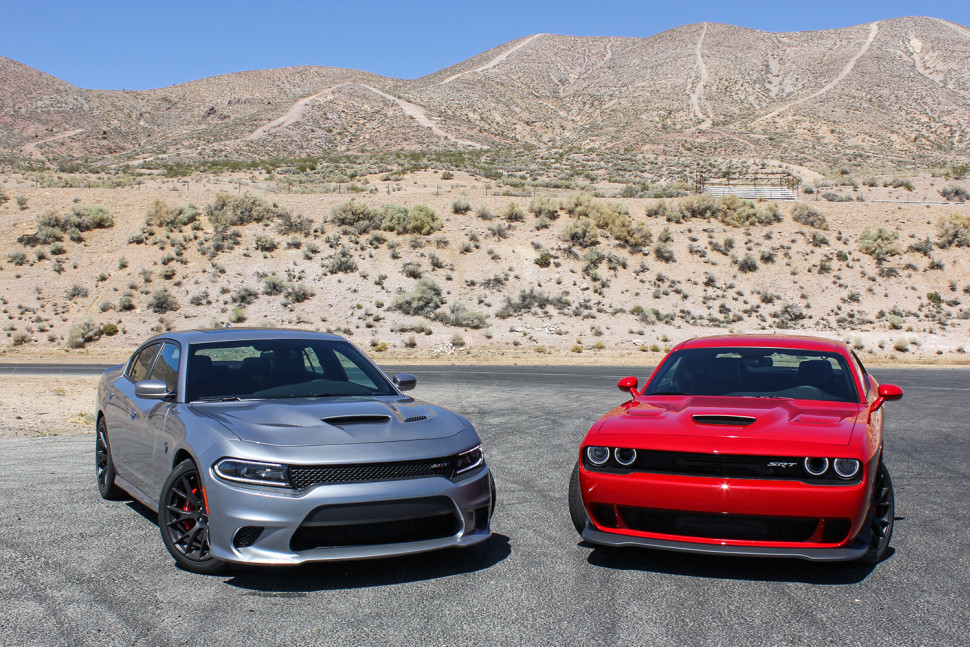 (Via DigitalTrends)
Hypercar, who?
The world's first batch of hypercars started to light up the stat sheet and the race track in 2013. With hybrid-electric drivetrains, near as makes no difference 1,000 horsepower, and price tags north of one million dollars each, the Ferrari laFerrari (dumb name, but awesome car), Porsche 918 Spyder, and McLaren P1 took performance to an unheard of level. Lap records started to fall to these hybrid behemoths, and they appeared to usher in a new tier of performance that was only achievable with the same recipe of high power gas engines complemented by the instant torque of electric motors. For a couple of years it appeared they would continue to stand alone as the track thrashing elite, but then the Street and Racing Team (SRT) over at Dodge stepped in and gave us this: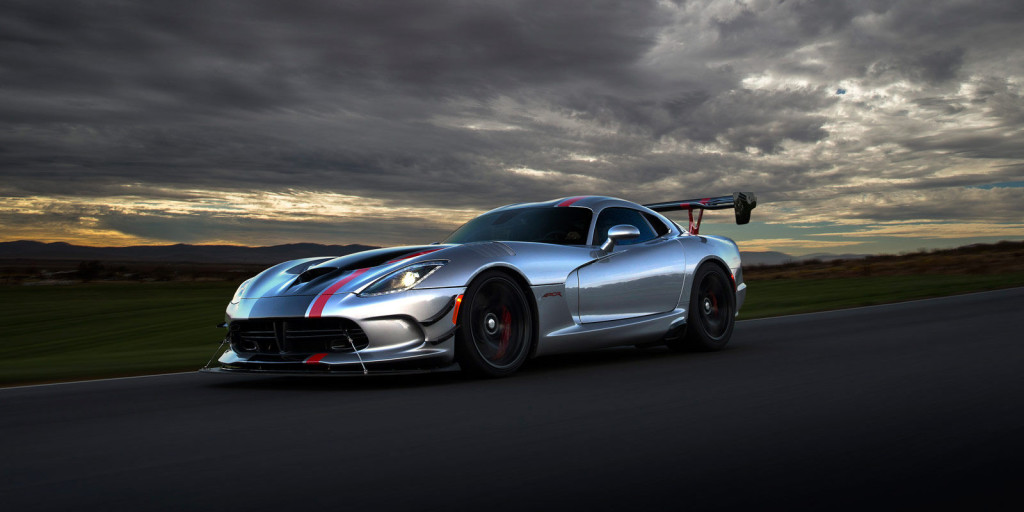 (Via DriveSRT)
The Dodge Viper ACR. And what did the ACR bring to battle? Hybrid tech? Nah. Turbocharging? Nope. All wheel drive? Don't think so. Just the largest displacement engine on the market, an 8.4 liter, 645 horsepower V10, a six-speed manual transmission to deliver power to the rear wheels, a lowered and tightened suspension compared to the base Viper…oh and an aero package that can create a literal ton of downforce. 2000 pounds. The wing ain't just for show, people. This simple combination lead to the Viper crushing lap records at 13 different tracks, including beating the Porsche 918 by over a second around Mazda Raceway Laguna Seca, and came in at roughly a tenth of the price of those aforementioned hypercars. Cause who needs technology when you have brute force?
Not a Beast, a Demon.
The Dodge Hellcat is a beast. It retained its position as the highest horsepower engine fitted to a muscle car from its launch all the way up to April 11, 2017. On that day a Demon was unleashed. And demonic is a very apt way to describe the new Challenger SRT Demon. 840 horsepower, 770 foot-pounds of torque, factory drag radials, and lots of first-time-ever-in-a-production-car items to make all of it travel a quarter mile in 9.65 seconds at over 140mph. That's holy shit fast. And it comes with a warranty. Some of those one of a kind items? A 100 octane button that changes the tune in the car to accept race gas in order to achieve the full 840hp. An air conditioning powered charged air cooling system that can drop intake temperatures by nearly 50 degrees fahrenheit. It also does wheelies. How unnecessarily great is that?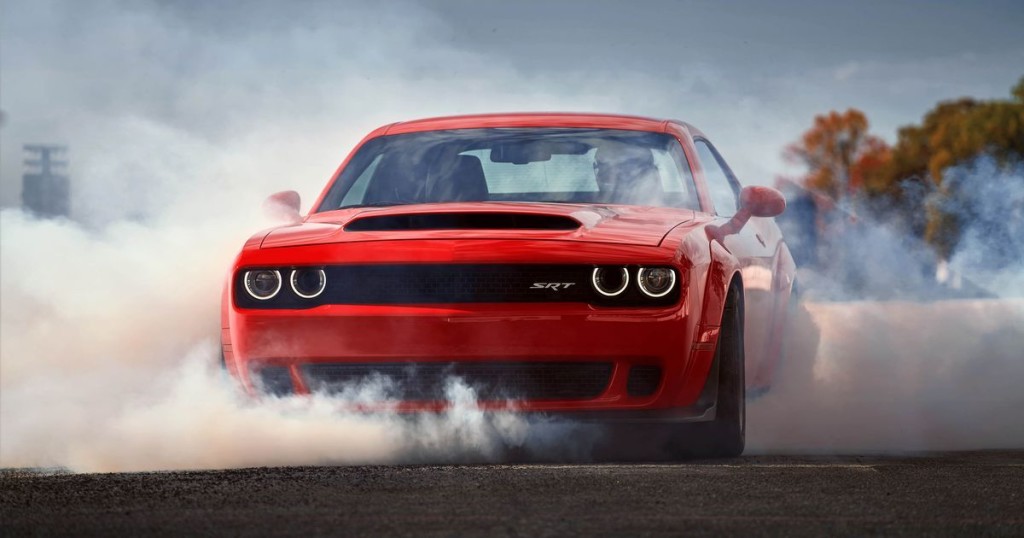 (Via Freep)
There are more things to come from Dodge, the Hellcat powered Grand Cherokee Trackhawk for starters, but the SRT Demon is the crescendo of their Swan Song. The epic climax to a story built around defying progress and logic in favor of simplicity and pure power. I truly hope that I am wrong. I still ponder the what if's of Pontiac and the potential of that lineup right before it was shut down for good. Dodge and Chrysler are on a completely different scale from that, and losing either would be a massive blow to the American automotive industry. If it comes to pass, however, at least we can say that they didn't go quietly into the night.