Yep, I said it.
DJ Khaled might have the world's easiest job. I mean, come on, the guy blew up by producing songs with A-list hip-hop artists in them, but he justifies putting his name on the artist list simply because he randomly shouts, "DJ KHALED!" before and after a set of uncomfortably cheesy lines said to a nameless woman before the music starts.
NOTE: This woman isn't a normal nameless woman, she's "smat," according to Khaled.
You read that correctly. Not "smart," but "smat," without the "r," because it would be too proper to say it right.
Should we mention the random Heads Audio advertisement drops? Dude hopped out of a Maybach 67S wearing a pair of headphones as if they were surgically attached to his head. Nonetheless, I'd imagine that he's still making millions, so I begin to ponder the ultimate question:
[1] How do we "normal" minions manage something like this? Can I do some advertising drops for Little Debbie Iced Honey Buns (the greatest semi-artificial pastry EVER)? I have no problem with being strategically placed in a music video, dancing to the music, all while munching away at my pastry. Maybe I'll call 2 Chainz and try to book a spot in his next drop.
[2] How does one build a music and advertising empire that enables one to easily promote products, even if the advertisement borders on horrendous? We demand answers!
Oh, and don't dismiss this as hate. Khaled is a genius, and obviously, he's fine-tuned his formula and it's working. The song is catchy enough, and Future still sucks (he sounds like a drunken Walt Jr. from "Breaking Bad"), but Chris' part shines as usual. The guy has some talent, and hopefully the anger management therapy helps him out.
"Say my name, baby!" Khaled says to the nameless woman after the music. It's as if he's talking to a three-year-old. "You smat! You're loyal. You're grateful. I appreciate that."
Then, he tosses her a few stacks of presumably real money, "Go buy your mom a house. Go buy your whole family houses. Put some money in your savings account. Go spend some money for no reason. Come back and ask for more."
But. . . don't forget the HEADPHONES!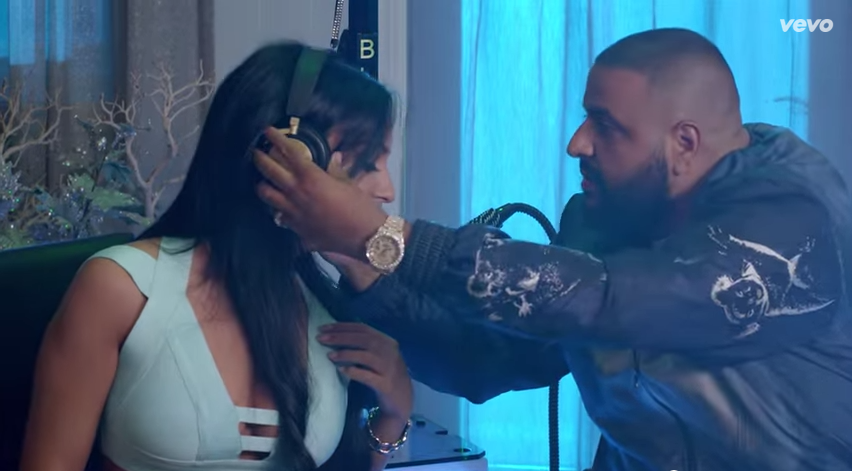 Bravo, lads.
To anyone who is enduring the struggle to wake up this morning, just click "play" on the video and enjoy the hilarity. If you're like me, and you can't dance, who cares? Dance anyway. Have some fun. Make the best of things.
–Bryan